VirSyn Releases iSyn Poly For iPad
VirSyn has released, iSyn Poly, an electronic music creation tool for the Apple iPad. It features three synthesizers (two monophonic, and one 8-voice polyphonic), a drum machine, and a full featured sequencer.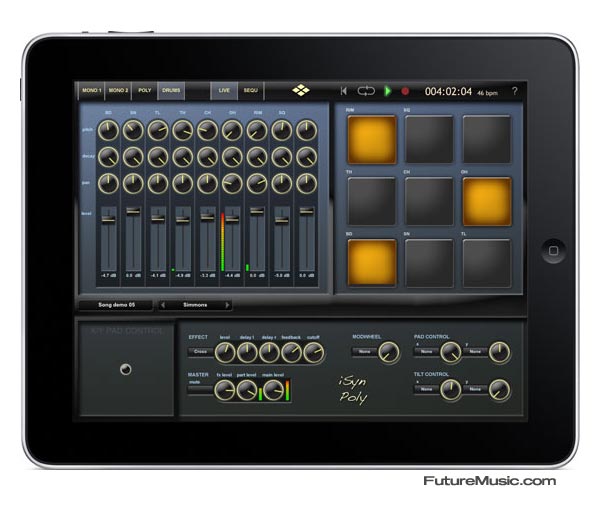 The sequencer contains four recording tracks that correspond to each instrument, and each is laid out in a familiar piano roll style. Real-time recordings can be cleaned up with quantization, and notes can be selected, edited, and copied; just like a computer sequencer. Each track also includes five lanes of automation for controlling velocity and pitch, and any parameters assigned to the mod wheel and X/Y pad.
iSyn Poly also includes a sample playback-based drum machine with seventeen kits, each containing eight samples. Drum samples include 808, 909, modular synth drums and numerous 80's drum machines. Volume, pan and decay time are individually adjustable and pitches are tunable over a wide range for crazy effects.
The full fledged sequencer let you arrange complete songs and can record the notes and controller movements of your performance. The unique gesture oriented user interface makes it ideal for live editing of notes and automations.
Play the three synths or drum machine with the onscreen keyboard/drum pads for fun live jam sessions, or let iSyn Poly do the playing for you with its full featured piano roll sequencer editable while playing. Play the keyboard by touching notes, or sliding up and down for amazingly expressive pitch glides and vibrato. iSyn Poly can even play a beat and synth track while you jam over sequenced tracks for a one-man iPad band.
With the Apple iPad Camera Connection Kit you can use a CoreMIDI compatible MIDI Keyboard to control iSyn Poly.
Features:
Three Independent Synthesizers:
» Three oscillators with sawtooth, pulse, triangle and sine waves. Modulations routings: LFO->pitch, filter ADSR->cutoff, LFO->pulse width.
White/Pink noise generator.
» Classic 24 dB/oct ladder-style lowpass filter with drive parameter. Modulations routings: LFO->Cutoff, Filter ADSR->Cutoff, Velocity sensitivity with external keyboard.
» Amp section includes distortion with drive, asymmetry and crusher (bit reducer) parameters.
» Control matrix allows real time control of five parameters using the X/Y touch pad, the modulation wheel of an external keyboard and the tilt sensors of the iPad.
» Arpeggiator for automated sequences.
» 64 factory presets, unlimited user presets can be shared.
Drum Machine:
» Eight simultaneous instruments arranged into eight user-selectable drum kits.
» Editor page allows tuning, panning, level and decay time for individual instruments.
Effects Section:
» iSyn Poly features one global effects unit with phaser, flanger, chorus and stereo/cross delay.
» Effects amount is individually settable for each of the synths and drum machine.
Live:
» Play melodies live with onscreen keyboard/drum pads. Drag fingers for slides and vibrato.
» Optionally use CoreMIDI* compatible hardware keyboard.
Full featured Sequencer:
» Four track sequencer with piano roll and automation editor.
» Record what you play live with the onscreen keyboard/drum pads or using an external CoreMIDI compatible keyboard.
» Real time quantize function and metronome for recording.
» Arrange your songs with variable length patterns ( 1 – 99 bars ). Move and copy/paste patterns.
» Recording and playback of X/Y Pad movements, modulation wheel, pitch bend and key velocity.
» Full set of editing functions with unlimited undo.
» Modeless gesture optimized editing.
Global:
» Manage unlimited number of songs.
» Render song or patterns to audio and midi files.
» Audio pasteboard. Copy audio recordings to Clipboard for use with other Apps (e.g. Intua BeatMaker and many others)
» Exchange songs and user presets with File Sharing in iTunes.
VirSyn's iSyn Poly costs $10 and is available now via iTunes.
VirSyn