Digitech Premiers JamMan Delay Looper
Digitech has unveiled the JamMan Delay Looper. The JamMan Delay Looper features both true stereo looping and a fully programmable stereo delay with powerful control over both effects. Our venerable Editor-In-Chief pricked up his ears when this showed up on my desk this morning and I asked if anyone remembered the original JamMan. "That was a ground-breaking piece back in the mid-nineties. Unfortunately, you couldn't save any of your 'jams' to memory." Well 15 years later, the new JamMan addresses this deficit and then some…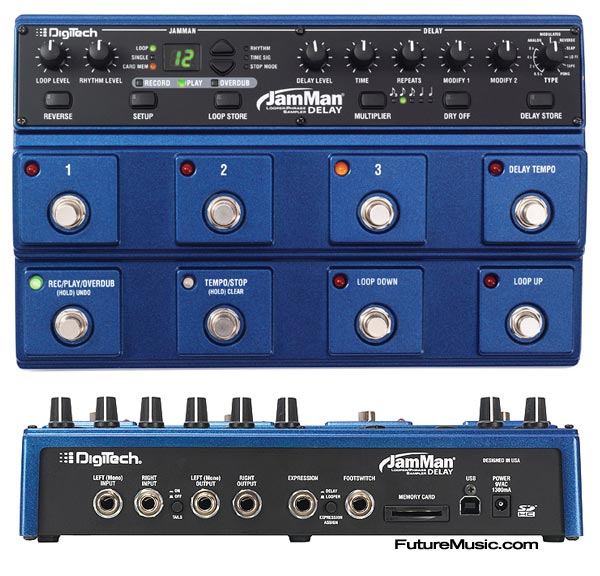 The Looper in the JamMan Delay Looper offers true stereo looping with 35 minutes of built-in memory, 99 internal loop memories, and an SD card expansion slot for an additional 99 loops and over 16 hours of stereo loop storage! USB connectivity provides syncing to DigiTech's free JamManager looper librarian software that organizes and saves your loops to a PC or Mac. JamManager also lets you quickly create custom loop JamLists to take to your gig.
The JamMan Delay Looper's delay is a powerful stereo delay with 3 fully programmable preset memories that can be recalled instantly via dedicated footswitches. A palette of 8 delay types offers flexibility in crafting a wide variety of delays. With 16 seconds of delay time, a tap tempo footswitch, and full morphing of the delay controls via the expression input, the JamMan Delay takes the whole JamMan concept to the next level.
Features:
» Powerful Stereo Looper and Stereo Delay together in a single pedal design
» Store over 35 minutes of stereo, CD-Quality loops in 99 internal memories
» Optional SDHC card can store over 16 hours* of CD-quality audio in 99 additional memories (198 memories total)
» Downloadable JamManager librarian for PC and Mac archives and organizes your loops over USB
» Reverse Loop Playback
» 3 Loop Stop modes (Stop, Finish, and Fade)
» Time Stretching lets you slow down or speed up loops without changing pitch
» 16 seconds of true stereo delay
» 3 fully programmable delay presets
» 8 unique delay types including Digital, Tape, Analog, Reverse, and Modulated delay
» Expression pedal input for morphing between 2 delay settings or controlling loop playback level
» Dry path defeat for parallel effects loops
» 8 Heavy-duty metal footswitches for looping and delay control
» Rugged metal chassis
» Power supply included
» Optional footswitch adds additional Hands-Free functionality
*with optional 16GB or higher SDHC memory card
JamManager is a free software application developed and built by DigiTech for your PC or Mac. With JamManager you can now transfer your loops from your JamMan Solo, JamMan Stereo, and JamMan Delay to your computer and vice-versa. The ability to save, to transfer, and to organize your loops using your computer takes the JamMan far beyond all other looping pedals. Don't limit your looping and creativity to your looper's built-in memory.
Digitech's JamMan Delay costs $500 and is available now. (If I remember correctly, the original wasn't cheap either… —Ed.)
Digitech