FaderFox Announces LV3 – New Ableton Live Controller
FaderFox has announced LV3, a sophisticated compact controller for Ableton Live. The device controls track volumes by faders, rack parameters by encoders and joysticks, as well as global events such as tempo, quantization and cue/master-volumes.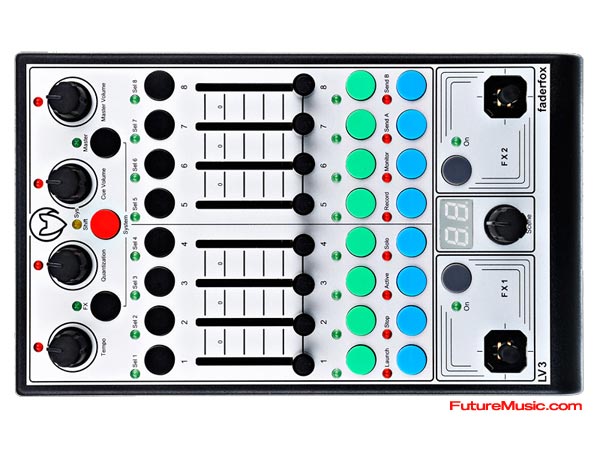 The LV3 provides total track control with 24 programmable buttons, organized in three rows. You will find a very convenient way to select and fire scenes and clips by a dedicated encoder, and the two joysticks will reportedly allow you to "fly away…"
Features:
» Specialized controller for Ableton Live (also suitable for other DAW software)
» Automap setup files for Live 8 are shipped with the controller (no manual mapping necessary)
» USB interface – class compliant / no driver necessary
» Controls 8 tracks with possibility to shift the 8-track-window to further tracks
» 24 programmable buttons for all track functions
» About 280 commands – all freely reassignable (each track sends on separate midi channel)
» Select and start/stop of scenes/clips with dedicated encoder (clip-scroll in session view)
» 4 mulifunctional push-encoders to control rack parameters in the selected track
» 2 non-centered joysticks to control rack parameters in the selected track or in send tracks
» Global control of several global parameters like tempo, quantization and master / cue volumes
» All controls with double function by holding down the shift button
» 33 LED's in different colors to display various informations like clip states etc.
» 2-digit-display to show current scene number and track window
» USB bus powering – consumption less than 500mW / 100mA
» Very compact design in a black, plastic casing (desktop format 180x105x70 mm, 350 g)
» High-quality faders and encoders from ALPS
» New rubber knobs for best tactile feeling
Requirements: PC or Mac with a free USB port (1.0 or higher) or any USB hub and Ableton Live 8 or software which allows user assignments of continuous parameters (CC).
FaderFox's LV3 costs €250 and should be available shortly.
FaderFox