Zoom Unleashes R8 – Multitrack Recorder, Controller, Sampler & Audio Interface
Zoom is back with the all-new R8 that combines four production tools in one compact package. In addition to being an 8-track playback/2-track simultaneous recorder that utilizes SD memory, the R8 is an audio interface, a control surface and a pad sampler.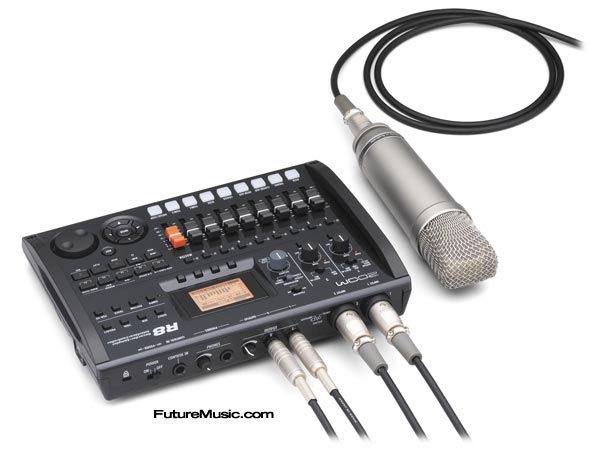 With a sampler function that consists of eight voices, the R8's built-in drum sounds can be triggered using eight pads to assign sounds to each track and create loops. You can also use the unit's drum machine to create original backing beats, or simply output a metronome for tempo control. Not only does the R8 offer over 500 drum patterns to work with, it also includes a 2GB SD card containing 500MB of drum loops recorded by Big Fish Audio.
Features:
» 8-track playback, 2-track simultaneous recording, digital multi-track recorder, audio interface, control surface, and pad sampler
» Drum machine, over 150 guitar and studio effects with pro-quality mastering effects, provide a studio quality sound
» Use as an audio interface or controller with included Cubase LE Software, or other major DAW programs
» Includes 2GB SD card and holds up to 32GB SDHC for 100 track hours
» Powered by only 4 AA batteries, included power adapter, or USB connection
The R8 comes with a 2GB SD card and supports up to 32GB SDHC cards for a maximum of 100 track hours. Using SD media for recording not only makes the R8 lighter and more portable, it also ensures increased reliability with no concern for a crashing hard drive. Take your R8 into your studio and record additional tracks using its USB audio interface. Then when you're ready to mix, use the R8's control surface capabilities to manage each function of your favorite DAW software.
Specs:
» Recorder:
— 8 Physical Tracks
— 2 Simultaneous Recording Tracks
— 8 Simultaneous Playback Tracks
— Recording Data Format: 44.1/48kHz, 16/24bit WAV
— Maximum Recordable Time: 200 minutes / GB (44.1kHz 16-bit, mono tracks)
— Projects: 1,000
— Markers: 100 / Project
— Locator: Hours / Min. / Sec. / msec or Bars / Beats / Ticks
— File Editing: Divide, Trim
— Other Functions: Punch-In / Out (Manual, Automatic), Bounce, Marker, A-B Repeat, Undo / Redo, Metronome
» Audio interface
— 2 Input Channels
— 2 Output Channels
— Quantization: 24bit
— Sampling Frequency 44.1?48?88.2?96kHz
» Mixer:
— 9 Faders
— Level Meters: 19-step LCD, Post-fader
— Track Parameters: 3-band Equalizer, Pan (Balance), Effect Send x 2, Invert
— Stereo Links Track pairs: 1/2 to 7/8 selectable
» Effects:
— 8 Algorithms (CLEAN?DISTORTION?ACO/BASS SIM?BASS?MIC?DUAL MIC?STEREO?MASTERING?
— Types: 146
— Modules: 7 for Insert, 2 for Send / Return
— Patches: 310 for Insert, 60 for Send / Return
— Tuner: Chromatic, Guitar, Bass, Open A/D/E/G, D modal
» Sampler:
— Playback Data Format: 44.1/48kHz, 16/24bit WAV
— 8 Voices
— Editing Functions: Trim, Time-stretch
» Rhythm:
— 8 Voices
— Sound Format: 16-bit Linear PCM
— 10 Drum Kits
— 8 Pads (velocity-sensitive)
— Precision 48PPQN
— Rhythm Patterns: 511/project
— Patterns: 511 (472 factory, 39 blank) / Project
— Beat: 1/4?8/4
— Tempo: 40.0?250.0BPM
» Recording Media: SD Card (16MB-2GB), SDHC Card (4-32GB)
» A/D Conversion: 96kHz 24bit delta-sigma ADC
» D/A Conversion: 96kHz 24bit delta-sigma DAC
» Display: 128 x 64 pixel LCD (with backlight)
» Inputs 2 x XLR-1/4"Phone Combo Jack / Input Impedance: (Balanced input) 1k? balanced, 2nd hot, (Unbalanced input) 50k? unbalanced, (Hi-Z Input) 470k? / Input Level: -50dBm to +4dBm continuously variable
» Built-in microphones Omnidirectional condenser microphones / Gain: -50dBm to +4dBm continuously variable
» Phantom Power Supply: 48V -24V
» Master Output: 1/4″ TRS Phone (balanced) / Output Impedance: 1k? / Rated Output Level: +4dBm
» Headphones Output: 1/4" Stereo Phone Jack, 20mW x 2 (at 32? load)
» USB Mini-B type (USB2.0 High-Speed compatible) – Audio Interface / Control Surface or Mass Storage Class operation
» Power Requirements: AC adapter (DC5V/1A/center positive) or AA size (LR6) battery x 4
» Dimensions: 257(W) x 190(D) x 51(H) mm
» Weight: 780g (without batteries)



Choose from over 140 built-in studio effects to enhance your recording and use the pro-quality mastering effects to complete that studio sound.
No pricing or availability has been announced.
Zoom