New Signal Process Unleashes BreakOut Stereo Interface For iPhone & iPad
New Signal Process has released three new models of its iPhone/iPad break out boxes. One of three, the BreakOut Stereo was designed specifically for DJs, producers, and elecro-acoustic artists using synth apps and drum programming to have a breakout box that has stereo output from two separate outputs. Electronic and electro-acoustic artists these days are performing in so many different situations and with so many different instrument combinations, the BreakOut Stereo is designed with them in mind so that the interface can easily adapt into the most varied table top setups both live and when recording.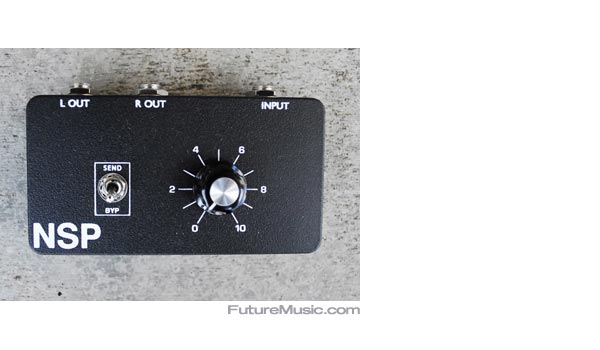 Features:
» Durable enough to handle the road, and so you don't tear up the jack on your phone, yet lightweight enough to take with you.
» Designed to function/fit in anywhere – in your studio, on the stage, on your tabletop setup, as a lightweight field recorder, a remote gig, even a street demonstration/art installation.
» Highest sounding quality components: great analog tone on the way in and on the way out, optimizing your sound.
» The true bypass allows you to disengage the circuit and send directly to the rest of your chain – so that you do not have to run through your phone all night when not in use or unplug and replug on stage while performing.
» Level knob allows you to use with guitars, mics, line level, samplers, mixing boards, keyboards.
» The internal circuitry solves all signal, feedback and detection issues you may have sending guitar, mic and line signals in and out of the iPhone and iPad.
» It literally breaks out of the iPhone's headphone jack to work with all your favorite recording, signal processing and sampling apps.
» Detachable Cable
— 1/8 inch 4 Conductor Jacks
— High Quality Mogami Cable
» Input and Output
— 1/4″ Mono Neutrik Input Jack for guitar, line level instruments or microphones
— 2.25″ Neutrik Mono Output Jacks ( L + R )
— 3.5 mm 4 Conductor plug for iPhone, iPad
» Solves impedance and detection issues
» Variable Input Level
S» End/Bypass Switch
The New Signal Process BreakOut Stereo is compatible with the iPhone 3G, 3GS, 4G (8GB, 16GB, 32GB), iPad, iPad 2 (16GB, 32GB, 64 GB), and costs $135.
New Signal Process