Black Lion Audio Upgrades Sparrow A/D Converter To MkII
The evil geniuses at Black Lion Audio have upgraded their analog to digital Sparrow converter to MkII and expanded the line to include three models.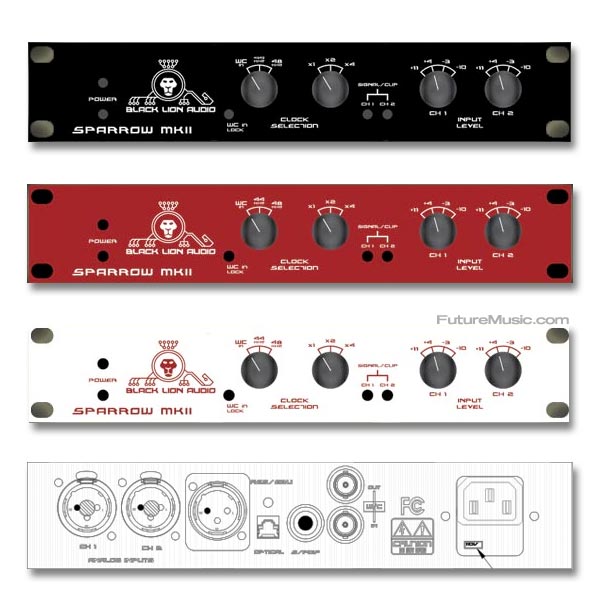 The completely redesigned Sparrow mk2 is housed in a 1U half-rack chassis, featuring XLR and 1/4″ balanced inputs, LED metering, BNC word clock I/O, AES output, coax and optical S/PDIF output, and user selectable signal calibration accommodating nominal input signal levels from +11dBu down to -10dBV.
It features sampling rates from 44.1kHz -192kHz, with a clocking architecture that features low jitter and wide Q third harmonic crystal oscillators, and because of the quality of the clock multiplier and PLL recovery stages, performance will not degrade should the converter be synched to a lower quality word clock reference.
Features:
» Balanced inputs (XLR or 1/4″)
» Selectable user calibration
» Word clock input and output
» Sampling rates from 44.1kHz -192kHz
» AES, coax S/PDIF, and optical S/PDIF
» LED metering
» Accommodates nominal input signal levels from +11dBu down to -10dBV
» 1U high, half-space rack mount chassis
» User selectable 110/220 voltage input
Specifications:
» Dynamic range: 120dB Black and Red Sparrow Unweighted; 122dB for the White Sparrow Unweighted; (124dB A-Weighted)
?» Max analog input before digital clipping: >+24dBu
?» Inputs: Balanced Analog = TRS and XLR; Clock = 75 Ohm BNC
?» Outputs: SPDIF = Coaxial (75 Ohm) and Optical, AES-EBU (110 Ohm); Word Clock = 75 Ohm BNC; Word Clock Lock = indicator LED
» Sampling rates: 44.1kHz – 192kHz
» Bit rate: 24 bit
» Latency: ? 65/Fs
» Digital Audio Output Level Indicator: Bi-Color LED (Green/Amber/Red)
The Sparrow MkII Black
Designed to perform in the range of $2,000+ two-channel A/D converters, the Sparrow mk2 BLACK is much more advanced than its predecessor, (the original BLA Sparrow). Its conversion circuitry utilizes Black Lion's proprietary approach to noise reduction; a feature yielding audio that sounds less compressed and processed than traditional methods of converter design. The clocking circuitry features low-jitter, wide Q third harmonic crystal oscillators with advanced PLL recovery. This provides low-jitter master clocking regardless of whether the unit is locked to its internal clock or an external word source.
The Sparrow MkII Red
The Sparrow mk2 RED is a two-channel ADC, which is more comparable to our acclaimed FM192 modification. With a slightly different design and components than the Black Sparrow, it features a low-noise, low-ripple converter circuit design and the same novel 220/270SP master clock that's found in their FM192. Rich, euphonic frequency response, shimmering top end, and fat low-end extension are all elements of this uniquely musical converter. Once you track with it, you'll find other converters sound hard, processed, or lifeless. Use it for mastering, two-track classical or jazz recordings, final mixes, or whatever application your studio needs.
The Sparrow MkII White
The White version of the Sparrow MkII represents a portion of Black Lion's research into delta sigma conversion and clocking architecture. Instead of using one converter for stereo conversion, it employs two converters in a parallel-balanced circuit to drastically boost converter dynamic range. Add to this Black Lion's unique approach to converter configuration, their 220/270SP master clock with wide Q third harmonic crystal oscillators, advanced PLL recovery, and a low noise analog path. The Sparrow MkII WHITE claims to outperform the FM192, making it among the best two-channel A/D converter options available in the pro audio market today.
The Sparrow MkII Backstory
The A/D conversion process is a tricky beast to tame. Because conversion requires so much current movement, there are plenty of places for unwanted noise to be created, both within the signal chain and in the power supply. This unwanted noise manifests itself within the audio signal as a grainy distortion, and often resides in the upper frequencies.
As Black Lion Audio began to research and test approaches to converter design, they discovered a unique way to reduce this unwanted noise and distortion, one that's not only inexpensive to implement but also works better than traditional approaches. They coupled this proprietary converter circuit to a high-speed, high-headroom analog stage that can capture the smallest nuances and micro-dynamics. The result is an inexpensive two-channel A/D converter that not only has an enormous sound with pinpoint imaging, but also has the smooth, wide open sonic quality of expensive high end systems and a wonderfully rich midrange.
The Sparrow MkII (named as an homage to French singer Edith Piaf) features four input stage trim presets and a single ultra-low distortion amplifier before the converter for simplicity and purity of signal path. Power supply filtration is designed around latest-generation organic semiconductor capacitance instead of a traditional electrolytic-based method, ensuring low power supply noise.
In addition to its cost-performance ratio, what makes the Sparrow MkII unique is that the design is modular and completely upgradable. The converter circuitry and the analog circuitry are housed on separate, fully interchangeable cards. This means both the analog and converter path can be altered or upgraded by simply changing out circuit boards. So, if you wish to upgrade from the basic Sparrow MkII BLACK to the Sparrow MkII RED, or from the RED version to the WHITE Sparrow, this can be accomplished without fanfare.
Black Lion Audio's Sparrow MkII is available now. Black costs $895, Red is $1295 and the White is $1895.
Black Lion Audio