FabFilter Premiers Pro-G – Expander / Gate Plug-In For Windows & Mac
FabFilter has released the FabFilter Pro-G, a new gate/expander plug-in for Mac and PC, which features a new user interface and flexible side-chain routing options.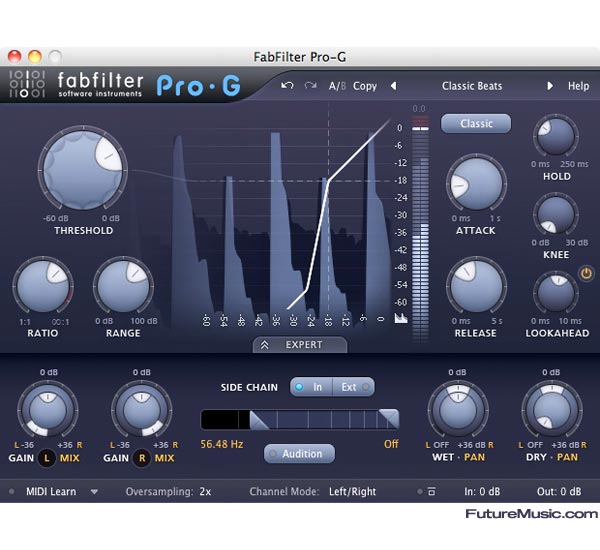 FabFilter Pro-G offers five fine-tuned algorithms, including classic analog models and upward expansion, as well as specific designs for vocal and guitar processing. In combination with the adjustable threshold, ratio, range settings and attack, release, hold and look-ahead times, Pro-G will process your drum and vocal tracks with character. At the same time, Pro-G is also a tool to subtly restore lost dynamics while mastering.




FabFilter Pro-G's real-time level display and meters combine input, output and gain reduction levels, giving you immediate insight in the plug-in's dynamic behavior. A click on the Expert button will resize the interface to make space for additional external side-chain input and side-chain filtering controls. The expert panel contains wet/dry level and panning controls, and allows the side-chain path and linking to be set up in any way imaginable. The interface conveniently adapts its size to reveal the expert controls only when needed, making it just as easy to use FabFilter Pro-G as a straightforward gate, or as a full-featured creative expander. Together with the transfer curve and threshold level feedback, choosing the right settings at the right time couldn't be easier.
Features:
» Five fine-tuned expander/gate algorithms: Classic, Clean, Vocal, Guitar and an upward expansion style
» Program-dependent attack and release curves
» Precise and helpful metering, including a real-time level display
» Low CPU usage
» Adjustable range, hold time and knee settings
» Optional look-ahead time up to 10 ms
» Expert mode that offers highly customizable side chain and level options, conveniently hidden in normal mode
» Mono, stereo or mid/side processing
» Up to four times linear-phase oversampling
» Zero-latency operation mode
» External side chain option
» MIDI triggering: open the gate/expander with your MIDI keyboard
» Separate dry/wet level settings
» Easy to set up for common gating/expansion situations with the included factory presets
» Stereo and mono plug-ins available
» All the usual FabFilter quality you've come to expect: perfectly fine-tuned knobs and controllers, interactive MIDI Learn, undo/redo and A/B switch, Smart Parameter Interpolation for smooth parameter transitions, an extensive help file with interactive help hints, sample accurate automation, SSE optimization, and more
FabFilter Pro-G supports both Windows and Mac OS X in VST and VST 3, Audio Units, RTAS and AudioSuite plug-in formats.
System requirements for FabFilter Pro-G are either Windows 7, Vista, XP, SSE-capable processor, and a VST 2 or VST 3 host or Pro Tools, or Mac OS X 10.4 (Tiger) or higher, Intel or PowerPC processor, and an Audio Units host, VST 2 or VST 3 host, or Pro Tools.
FabFilter's Pro-G costs $174 / €129 / £114 and is available now.
FabFilter