Binary Bleeps Releases Sampler iOS App
Binary Bleeps Sampler, a new iOS sampling and effects App, has been released for iPhone and iPad.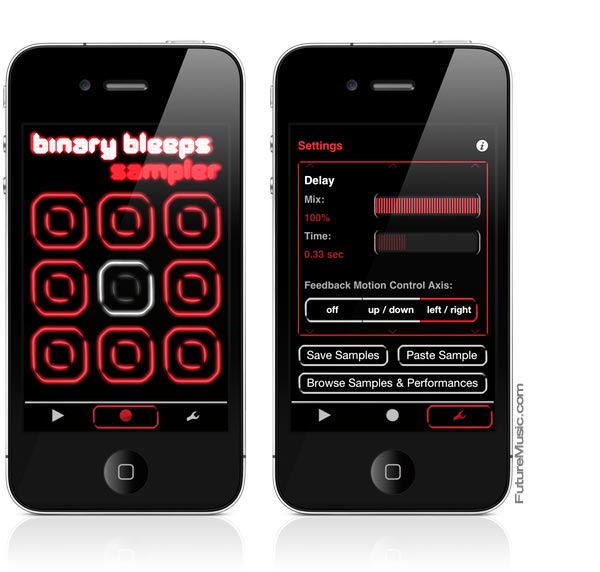 Binary Bleeps Sampler is an audio capture and performance instrument with motion-controlled pitch, filter, delay, and lo-fi bit crusher effects.
Features:
» Record from the microphone or paste audio from other apps.
» Play your samples from velocity sensitive pads.
» Control effects through the motion of your device.
» Save samples and record performances.
Sampler's pads are velocity sensitive and trigger samples with very low latency for expressiveness and great playability.
Recording is input sensitive to ensure concrete sample start points without further editing and fuss. Sensitivity is adjustable to your input source. The complete effects section is motion-controllable. Effect parameters can be assigned to your device's tilt axes. Sampler comes with a real-time pitch shifter, a resonant lowpass filter, a feedback delay and a lo-fi bit crusher, all of which can be active simultaneously.
Performances can be copied into other apps or transferred to your computer via iTunes file sharing. AudioCopy and AudioPaste are supported. Sampler comes preloaded with presets, so you can start making sound instantly.
Binary Bleeps Sampler costs only $0.99 / €0.79 for a limited time and is available now. More information on Binary Bleeps Sampler.