Nomad Factory Releases Echoes Plug-In For Mac & PC
Nomad Factory has released Echoes, a new virtual analog plug-in for Mac and PC designed to give you the warmth and richness of classic vintage delay effects.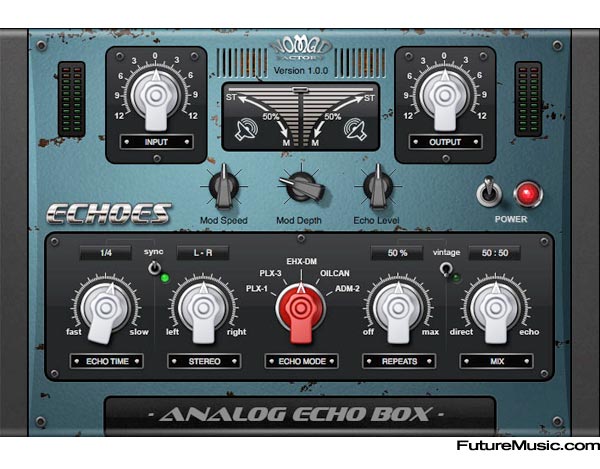 Echoes claims to faithfully model some of the greatest delay effects of all time, PLX-1 based on Echoplex 1, PLX-3 based on Echoplex 3, OILCAN based on Tel-Ray Oilcan Delay, EHX-DM based on Electro Harmonix Deluxe Memory Man, and ADM-2 based on Boss DM-2 Analog Delay.
Often incorporating vacuum tube-based electronics, vintage analog delay units are sought after by today's musicians who desire the unique timbres achievable with this technology. Solid-state delay units using transistors became available in the 1970s and were briefly a mainstream alternative to tape echo. Though solid-state analog delays are less flexible than digital delays and generally have shorter delay times, several classic models such as the discontinued Boss DM-2 are still regarded for their warmer, more natural echo quality and progressively decaying delays.
Features:
» ECHO TIME: Controls the time from 20 to 2000ms of analog delay.
» PANNING: Center position for stereo pan, left or right causes ping pong effect.
» ECHO MODE: Choose from 5 classic analog delay effects.
» REPEATS: Controls the feedback amount of the delay effect.
» MIX: Controls the balance of the wet /dry signal.
» EXTRA KNOBS: 3 additional preset knobs that change according to the currently selected mode.
» PLX-1: Wow & Flutter, Drive and Echo Level
» PLX-3: Bass, Treble and Echo Level
» EHX-DM: Mod Speed, Mod Depth and Echo Level
» OILCAN: Tone, Variation and Echo Level
» ADM-2: Bass, Treble and Echo Level
» SYNC SWITCH: Sync your delays to your song's master tempo
» VINTAGE SWITCH: Give your delays that vintage analog sound by filtering the repeats
» STEREO WIDENER: Increases the width of the delay. Lowest setting is true mono
» INPUT: Sets the input level of Echoes
» OUTPUT: Sets the output level of Echoes
» POWER bypasses the entire unit
Nomad Factory's Echoes costs $129 and is available now. More information on Nomad Factory Echoes.