Eowave Announces Domino & Koma Analog Synths
Eowave has announced two new analog synthesizers, the Domino, a 303 clone and the Koma, to micro analog synths.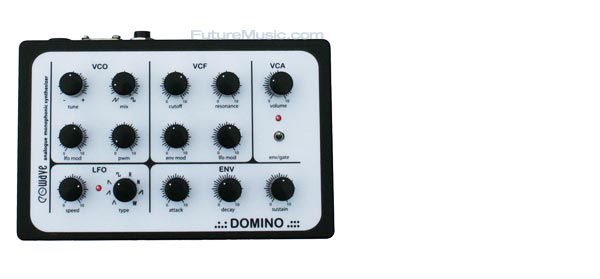 Domino is a discret analog synthesizer with a VCO in the tradition of the Korg MS20 and Roland TB-303. The VCO, filter and VCA are transistor made. The filter is a classic Moog ladder 24dB resonant filter.
The VCO offers mix between sawtooth and square. The pulsewidth can be modulated by the LFO.
The analogue envelope range is from 1ms to 10s with attack, decay, sustain/release. The LFO has eight different waveforms and can be synced to MIDI.
Features:
» On waveform 8, the modulation wheel can replace the LFO.
» CC 8 to 16 can transform the LFO in a sequencer to modulate pitch, pulsewidth, filter cutoff. The VCA can be modulated by a gate or by an envelope.
» In the legato mode, playing notes will generate glide between two notes. The glide time can be edited via MIDI, CC and Audio input
» Accent feature: velocity values above 100 are recognized as an accent
» The transistor architecture gives Domino a unique raw sound
» Easy to use
» Direct access to all parameters
» Small size and metal enclosure
Technical Specifications:
» 1 analog oscillator from saw to square with tune and mix
» Lfo modulation
» Pulsewidth modulation
» 24dB Moog ladder resonant filter
» Envelope modulation and LFO modulation of the filter
» LFO with Speed and Type parameters
» Envelope with Attack, Decay, Sustain
» Analog VCA
» Env/gate switch
Connections:
» MIDI in
» Audio out
» Ext power supply
» Audio in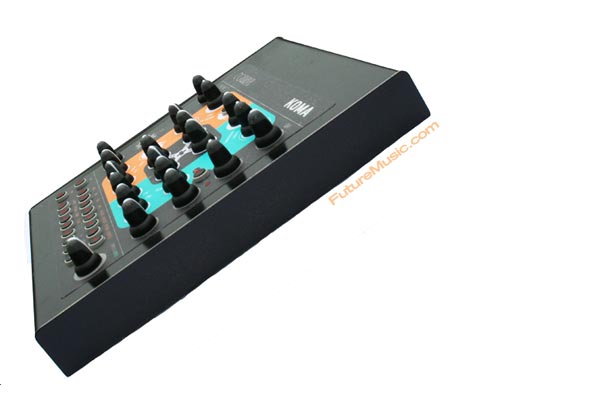 Eowave claims "Koma is a step back into the 80s with a touch of modernity…"
Koma is an analog bassline inspired by classical synths from the 1980s. It offers the possibility to mix 4 different waveforms (saw, square, sub, noise). The 24 dB low-pass filter is also inspired from classical filters from the 80s.
To this particular sound of the 80s, Eowave added modern controls and parameters saving features. The 16 steps sequencer has 4 rows: 1 for the notes and 3 freely assignable to a parameter of your choice that enables to create living sequences with sonorities like Vince Clark or Yann Hammer.
Oscillator section:
» Analog VCO with square saw sub (sub can be 1 or 2 octaves below the master freq), noise.
» VCO can be modulated by LFO and PW
» Variable glide
» mixer to mix the 4 waveforms
Filter section:
»Full analog VCO, filter, VCA.
» external audio with a trimmer to feed the filter
» 24dB low pass filter roland style for a classical 80s sound
» filter can be modulated by env2, KB, lfo.
VCA section:
» VCA is affected to env1
» 2 envelopes ADSR modulate respectively the amplitude and the filter.
»Attack goes from 2ms to 10s.
LFO section:
» LFO with 8 waveforms (triangle, ramp up, ramp down, square, random, digital noise, staircase up, staircase down)
Connections:
»audio in
»audio out
»MIDI in
»USB (for software update and MIDI in/out)
Sequencer:
» 16 steps sequencer with LED
» 4 rows: 1 row controls gates and notes.
»- 3 other rows are freely assignable to any parameter of the front panel.
» You can transpose the sequencer with an external MIDI keyboard.
Eowave's Domino will be available sometime in June for €299. Koma will be available this fall for €599. More information on Eowave Domino and Koma.