HG Fortune Announces Altair 4 The SciFi Sounds Lab Plug-In For Windows
HG Fortune has announced Altair 4 The SciFi Sounds Lab, a new Windows plug-in for creating soundscapes for the genres of SciFi, Suspense, Horror and Fantasy. Even if you're not a composer, you may find Altair 4 worth a look if you're looking for spaced-out, bizarre sounds.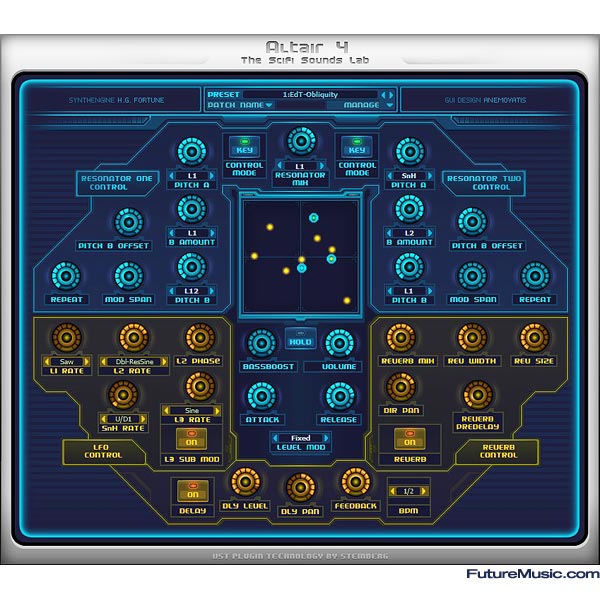 Features:
» 2 oscillators with two soundsources with one (B) driving the other (A) to resonate; each oscillator with three mod inputs and extensive control options
» 3 LFO: L1 (7 waves) with key restart on first key pressed, L2 (8 waves) and phase modulation, L3 (7 waves) with optional modulation by sub LFO;
» 2 hidden LFO: L12 = mix of L1 and L2, L13 = mix of L1 and L3;
» 1 Sample & Hold (6 modes);
» 1 VCA with AR EG (with pan for undelayed sound at Rev section);
» 1 Main Volume with level control: fixed, Velocity, and even Aftertouch, or Wheel;
» 1 Delay (bpm synced) and dedicated pan
» 1 Bass Boost
» 1 Reverb with predelay
» 1 Hold button to hold last played key
» 1 Joypad with 3 balls to control 6 destinations
» 8 Voices
» 256 Patches (2 Banks)
HG Fortune's Altair 4 will be available on May 15th for €29. A Beta is available now. More information on HG Fortune Altair 4 The SciFi Sounds Lab.