Oscium Releases iMSO-104 Oscilloscope App
Oscium has released the first mixed signal oscilloscope for Apple's iOS devices. iMSO-104 is the smallest, most portable scope in the world, making it the ideal touch screen interface and colorful display solution for hobbyist and students, as well as field sales and application engineers.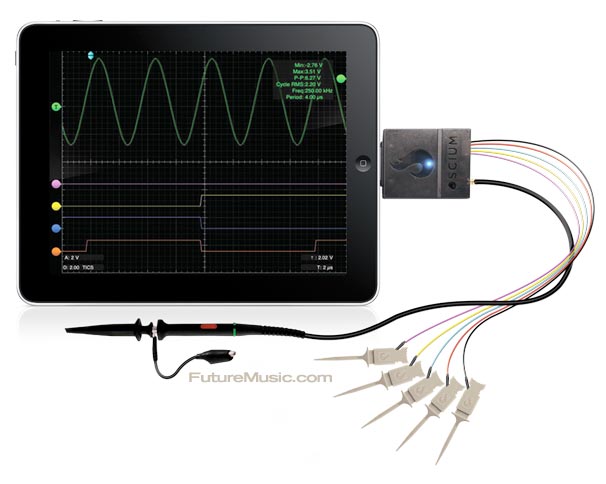 Use hand gestures to navigate: Trigger Level – Setting the analog trigger level is as easy as touching the right side of the screen and swiping either up or down. Zooming – Changing the vertical and horizontal scales can be done by moving two fingers away from each other. And to zoom out, simply pinch the screen moving two fingers toward each other.
Repositioning Channels – Both the analog and digital channels are also easy to reposition. Touch and swipe the desired channel to any position on the screen to customize your display.
Features:
» iMSO-104 Mixed Signal Oscilloscope Hardware
» 1x/10 Analog Probe
» Logic Harness (4 Digital + 1 Ground)
» SMD Grabbers (4 Digital + 1 Ground)
» Screwdriver for Analog Waveform Compensation Adjustment
» Analog tip covers (2 pieces)
Oscium's iMSO-104 is available now for $298. More information on Oscium iMSO-104 Oscilloscope.