Stanton Announces Stanton SCS.4DJ – All-In-One DJ Controller, Software & Computer
Stanton has announced the SCS.4DJ, a new all-in-one digital DJ system featuring a built-in computer, controller and mixing software. No word on availability or pricing.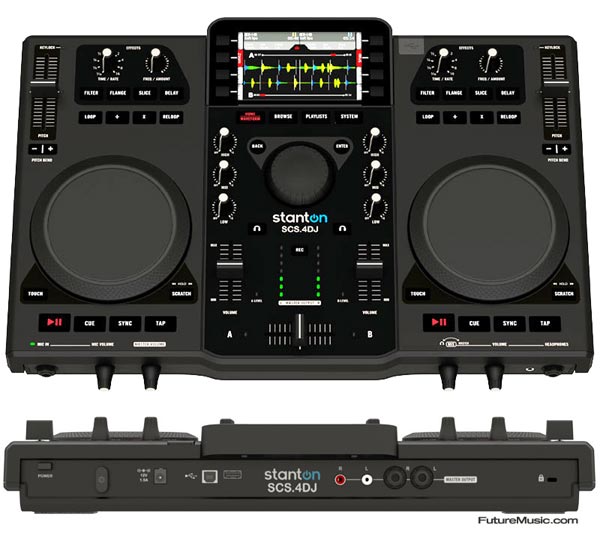 Features:
» Ability to play and mix two tracks directly from the majority of mass storage devices
» Automatic Tempo and beat grid calculation allowing tracks to be synchronized quickly
» 4.3″ high resolution widescreen LCD with dual frequency dependant color waveform displays, makes visual beat matching easy
» Comprehensive Browse, Search and Sort capabilities presented in a simple and intuitive user interface
» 8 x "Soft" buttons allowing direct access to features, functionality and navigation
» 4 x "Direct Access" illuminated buttons, with a navigation section
» Dual high-resolution 4.75″ touch-sensitive weighted platters, utilizing a high resolution scratch algorithm
» Dual built in effects unit functionality with full beat synchronization Record your mixes directly to WAV format files for sharing or distribution while you play
» Auto-DJ mode will mix your playlists automatically using the calculated beat grids
» Microphone input with high-headroom and low noise performance
» 60mm Pitch control, with pitch bend buttons and high quality keylock performance
» Multiple USB Connections (1 x Top, 1 x Rear, 2 x Base plus host connection for MIDI Controller mode)
» Transport controls featuring PLAY/PAUSE, CUE, SYNC and TAP tempo
» 1/4″ Balanced TRS and Unbalanced RCA outputs
» Dual headphone outputs
» Internal Media Bay compartment for placement and connectivity of media storage devices
» Fully capable MIDI controller functionality
The Stanton SCS.4DJ is an integrated DJ system offering one-button automatic synchronization. The digital mix engine also allows the SCS.4DJ to be placed into "Auto-DJ" mode, where the unit will automatically mix the music in your playlist based on your chosen style of mixing. DJ directly from your digital media library located on your USB memory stick, hard drive or smart phone. SCS.4DJ supports most unprotected file formats including WAV, MP3 and AAC files. The layout is familiar to the experienced DJ, and logical enough for any novice to grasp. As a mobile DJ, SCS.4DJ gives you the durability and flexibility you need to perform night after night, with an intuitive yet simple surface, easy access USB ports, and a rugged chassis.
SCS.4DJ's one-button sync engine and built-in tempo and beat grid calculations let you spend less time keeping things synchronized, giving you more time to be creative. The beat synchronized features including FX and Auto Loops will give you professional sounding mixes from your first mix out of the box. Press the Record button and SCS.4DJ will record your performance to any mass storage device. Your recording can be shared between friends or used to produce a CD for distribution.
Deck Controls:
» Three band EQ per channel with complete kills, and +6dB boost
» 4 Beat synchronized Effects per channel (Delay, Flange, Filter and Slice) with two parameter knobs for custom real time control
» Dual high-resolution 4.75″ touch-sensitive weighted platters, with scratch, touch and fast forward/rewind functionality
» Individual 45mm volume faders for each channel with DJ friendly fader caps.
» 60mm Pitch control with bend and key lock functionality (with status indication)
» High-quality digitally-controlled 45mm cross fader with incredible durability and multiple fader curves to fit your performance style
» Auto Gain – automatically adjusts the volume of the loaded track to optimize playback quality
» Auto Loop – creates a beat synchronized loop from the current song position
» Loop Length – multiply and divide the length of the loop
» Reloop – automatically jump back to the last loop you used.
» Headphone Cue/Listen per channel (indicated by the headphone icon)
» Tri-Color input Level LED's showing deck volume.
» Large Play/Pause and Cue transport buttons
» Large TAP tempo button to correct BPM for non standard musical genres.
» Large Sync button located with the transport controls for instant beat matching of one deck to the other.
The Future: Risky. Stanton is certainly going out on a limb with the 4DJ. They would have had a much easier time of it, if they had an industry-leading mixing software solution that they were porting to the 4DJ. Even if that was the case, there would be questions raised about updates, processor upgrades and other paths to keep the product up-to-date, none of which the concern has addressed in their marketing materials. Unfortunately, Stanton doesn't have such a great track record when they try to push the envelope…and the computer renderings, instead of actual prototypes only promote the vaporware aspect (remember how long it took Stanton to actually debut the SCS.1 system from the splashy NAMM announcement?)
Considering the state of affairs at Stanton, they must have figured: if we fall, let's at least fall reaching…
UPDATE: Stanton has officially set the price for the 4DJ: $499! This extremely attractive price point gives this new concept a serious fighting chance in the market. According to the company, this was the initial target MSRP from the start, so the concern knew they had to make this very economical in order for DJs to take a look.
Availability?? They'd love to get this thing out for the upcoming Holiday season, but…