Psyko Audio Announces Carbon 5.1 Headphones
Psyko Audio has announced the Carbon, a premium PC headset that claims to deliver a directional audio soundscape in a headphone. Unlike other surround sound headsets that approximate direction through simulation, Psyko Carbon uses precision-tuned front and rear audio waveguides to channel sound instantly and naturally to both ears simultaneously, just like a 5.1 room speaker system.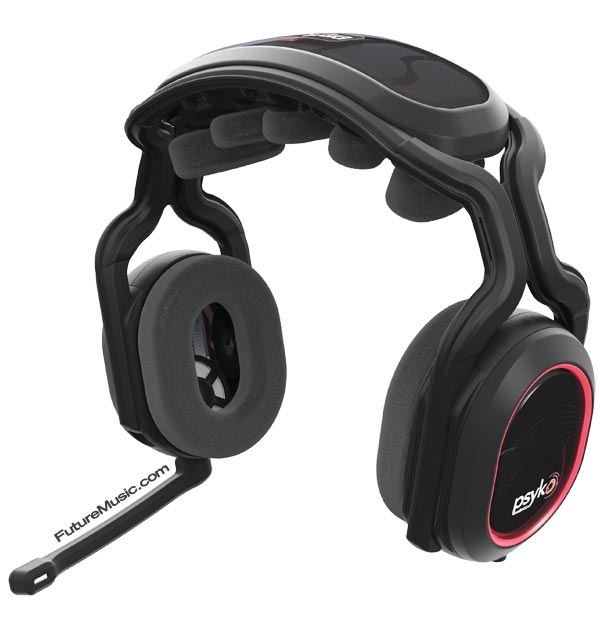 The PsykoWave technology is at the cutting edge of what is possible with achieving surround-sound in a headset and may even be an economic solution for experimenting with 5.1 mixing on your PC. PsykoWave claims to deliver the highest level of audio directionality and natural sound reproduction over any other 5.1 or 7.1 surround sound gaming headset.
This is achieved through a radical design departure from traditional surround sound headsets. Instead of using signal processing to simulate surround effects:
Five speakers are placed in the bridge of the headphone each in a precise location to create the correct timing and level differences to both ears. Dual precision-tuned audio waveguides direct the sound from all speakers to flow past the front and rear of both ears, creating the same audio environment that exists with a 5.1 room speaker system. To complete the 5.1 surround sound experience, subwoofers are placed in each ear cup to deliver solid bass that gives users a more immersive feel without interfering with audio quality.
The combination of these three factors recreates, in miniature, the same things that happen with a room speaker system. There is no signal processing involved so there is no latency introduced, and because we simply recreate the natural conditions of a room in miniature the headphones will work for anyone, to the limits of their audio acuity.
Features:
» Five individual speakers in the bridge of the headset
» Precision audio waveguides naturally drive the sound to both ears with zero latency and instant positional awareness
» New high performance speakers deliver enhanced audio performance
» Simple setup – no software drivers, plug and play
» Psyko Amp with fully adjustable bass, volume control, and 5 LED visual direction indicator
» Pivot-open ear cups keep your ears cool during extended play and hear others
» Removable Mic – out of the way, but there when you need it
» Tough braided Cable – tangle free and more durable.
» Gold plated connectors
Psyko Amplifier – every Carbon system comes fully equipped with a Psyko Amp, used to power the headset and drive the sound from the top of the headband and into your ears. It is the workhorse of our PsykoWave Technology and features fully customizable sound and LED directional indicators. The setup is simple, just plug in the four colored jacks into the sound card.
Side Vents – pivot open the ear cups to keep your ears cool and lets you hear others without removing the headset, pivot them closed to block outside sounds. Extra comfortable padding fits over your ears for marathon gaming sessions. Game late into the night without disturbing your family or neighbors.
Psyko's Carbon costs $200 and will be available worldwid on April 7th. More information on the Psyko Carbon surround-sound headphone.