Pioneer Premiers DJM-T1 – 2-Channel Traktor Scratch 2 Certified Mixer
Pioneer has premiered its new DJM-T1, a high performance digital mixer featuring Native Instruments' Traktor software, quality audio, improved fader durability and an internal USB soundcard that eliminates the need to connect an external controller or soundcard.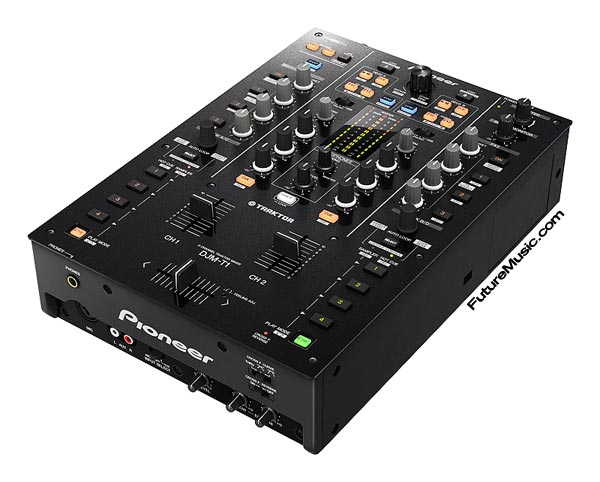 The DJM-T1 is equipped with a controller function for the Traktor series, allowing users to directly access Traktor's software features without the need for an additional external controller or soundcard. To find tracks and mix smoothly without ever having to leave the mixer's control panel, controls for Browse (song selection) and Transport (play, fast forward, rewind, etc.) are conveniently located on the upper section of the mixer. Performance controls such as Effect, Loop, Hot, Cue, Sampler are conveniently located on the left and right side of the mixer, providing the same look of Traktor's popular graphical user interface for quick and accurate software operation. Each button on the mixer is designed to illuminate in sync with Traktor, allowing the user to view the status of the software directly on the mixer and reducing the need to look up at the PC/Mac.
Features:
» Number of channels: 2 channels
» Input terminals:
— CD/LINE×2 (RCA)
— PHONO×2 (RCA)
— AUX×1 (RCA)
— MIC×1 (XLR & 1/4 inch PHONE combo jack)
» Output ports:
— MASTER OUT×2 (RCA, XLR)
— BOOTH OUT×1 (1/4 inch PHONE)
— HEADPHONE MONITOR OUT×1 (top surface 1/4 inch PHONE)
» USB port
» Technical Specifications:
— Sampling rate 48 kHz
— D/A converter 24 bit
— A/D converter 24 bit
— Frequency response 20 Hz – 20 kHz
— Total Harmonic Distortion ratio 0.004% or less
— S/N ratio 106 dB or greater (LINE)
— Head room 19 dB
» Dimensions 10.5 in (W) × 15.9 in (D) × 4.3 in (H)
» Unit weight 13.5 lb
» Included:
— TRAKTOR SCRATCH DUO 2 Software
— CONTROL CD x2
— CONTROL VINYL x2
— Driver Software CD-ROM
The DJM-T1 is a Traktor Scratch Certified mixer allowing "no-brainer" connectivity and operation with NI's DVS software. For DJs who prefer to use their own DJ turntables, the mixer comes with Control CD/Vinyl options, enabling it to be used as a Traktor controller for scratching functions on their own equipment. In addition, the included Traktor Scratch Duo 2 software let DJs start using the product right out of the box.
Pioneer integrated channel faders and crossfaders that feature a new slide construction supported by two metal shafts for the fader knobs. The new faders claim to provide a smooth, consistent operation, with nearly three times the durability of previous generations of Pioneer mixers. The design also better protects the faders from the harmful effects of accidental liquid spills and/or dust that might otherwise collect inside these controls. The DJM-T1's crossfader utilizes a magnetic construction, exclusive to Pioneer, that offers durability, enabling it to withstand more than 10 million operations. The operational load, fader curve, and cut lag can also be adjusted to the user's personal preference.
The DJM-T1 is equipped with an internal USB soundcard that enables the user to connect directly to a PC/Mac with a single USB cable. DJs can use the configuration utility tool installed on a PC/Mac to change the output signal from six points of the mixer based on the user's individual preference including DJing, recording, or production.
Additional Features:
» Microphone and auxiliary inputs located on the front of the mixer
» Improved grip with rubber knobs for ISOLATOR/EFFECT/LOOP volume controls
» Multi-input selector for switching between CD/PHONO/USB inputs
» Three-band isolator type equalizer for a wide range of level control from +6 dB to -? (cut) for HI/MID/LOW ranges individually
» MIDI signal output enable fader/isolator operation data for transmitting to external devices
» LFO CONTROL outputs MIDI signal that changes at beat-by-beat intervals for precision control
» "P-LOCK Fader Cap" locking mechanism on channel fader and crossfader knobs designed to prevent fader caps from slipping.
» Auto Standby automatically recognizes the current state of operation and input signal, switching the power to standby mode when no activity or input is detected for a period of time
» Booth output volume control
Pioneer's DJM-T1 will be available in July for a spendy $1,899. More information on the Pioneer DJM-T1.