Korg Announces Wavedrum Mini
Korg says: "Legendary Wavedrum technology – now in compact form!" We say: "Savvy product extension with exciting external drum trigger!"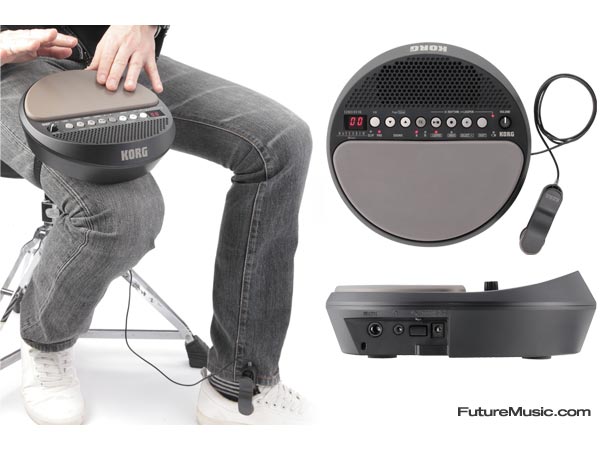 Korg has announced the battery-powered Wavedrum Mini, a portable percussion synthesizer with a built-in speaker and a new sensor clip that transforms nearly any object into an instrument.
Features:
» Sounds: 100
» Combination Effects: 10
» Input: Sensor Clip input
» Outputs: Phones (Stereo mini), Output (1/4″)
» Speaker: 10 x 5cm; 1.3 Watt
» Sampling frequency: 48 kHz
» A/D, D/A conversion: 24-bit
» Display: 7-segment LED
» Power Supply: AA nickel metal hydride batteries (x6); AC adapter
» Battery Life: 4 hours using nickel metal hydride batteries (your mileage may vary)
» Dimensions (W x D x H): 8.50 x 8.50 x 2.63 inches / 216 x 216 x 67mm
» Weight: 2.20 lbs. / 1.0kg (batteries included)
» Accessories: AC Adapter, Sensor clip, Strap
In addition to its dynamic pad surface, the Wavedrum Mini also includes a newly-developed sensor clip which can be attached to a table, cup, or any object, allowing it to be played as a percussion instrument. Using the sensor clip and the pad allows two sounds to be played at once, doubling the Wavedrum Mini's performance potential. Choose from 100 great sounds; add in one of the 10 exciting effects; play along to one of the 100 internal rhythm patterns, or record with unlimited overdubs using the built-in Looper. The possibilities are endless. The Wavedrum Mini will appeal to musicians who value a truly original performance, or to any beginner simply looking to enjoy playing a musical instrument.
100 ready-to-play sounds
Based on Wavedrum technology, the Wavedrum Mini offers 100 ready to play sounds. From acoustic-sounding drum and percussion sounds to cutting-edge sounds possible only on a synthesizer, the Wavedrum Mini offers a diverse range of sonics. Even instruments such as bass, tuned percussion, and stringed instruments are included, allowing you to create both rhythmic and melodic performances.
10 Built-in effects
The Wavedrum Mini features built-in effects that make it easy to transform the sound itself. Each of the 10 quality multi-effects combines a variety of effects – familiar spatial-type effects such as delay, chorus, and reverb; modern effects including filters and pitch-shifters that transform the sound; distortion-type effects that deliver analog-style warmth, etc. Any effect can be quickly applied to any sound, regardless of technical knowledge, allowing you to create exciting musical results.
100 Rhythm patterns
The Wavedrum Mini contains 100 rhythm patterns covering a range of styles. These patterns can be used as a guide to help the beginner keep a steady rhythm; or simply enjoy jamming along. In fact, by using the pad, the sensor clip, and playing a rhythm pattern, you can create a three-part performance in real time.
More information on the Korg Wavedrum Mini.