RME Announces Fireface UFX Shipping In May
The new RME Fireface UFX audio interface will be shipping in May. The new flagship interface from RME contains 60 channels of audio, digitally controlled preamps, quality converters and full 192 kHz operation.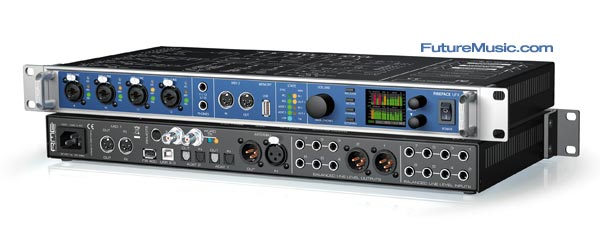 The UFX features low latency operation with both USB and FireWire (What no "Hybrid" moniker? *Wink, Wink* —Ed.) and touts stability via their active jitter suppression.
Connectivity:
» 30 Input / 30 Output channels
» 12 x Analog I/O
» 4 x Mic/Instrument Preamp, digitally controlled
» 1 x AES/EBU I/O
» 2 x ADAT I/O (or 1 x ADAT I/O plus 1 x SPDIF I/O optical)
» 1 x Word Clock I/O
» 2 x MIDI I/O
» 1 x FireWire 400
» 1 x USB 2.0
» TotalMix FX: the new digital mixer and signal router, driven by two DSPs, with integrated EQ, Dynamics and Reverb/Echo effects up to 192 kHz plus a built-in monitoring control.
The UFX is not only a desktop level controller, but a monitor switcher and source selector with integrated talkback function for modern Mix-In-the-Box studios. As the UFX includes the usually externally added monitoring controller, it also preserves the original sound, as its hardware output stays directly connected to the studio monitors.
The DSP-based TotalMix mixer allows fully independent routing and mixing of all 30 input and playback channels to all 30 physical outputs. Up to 15 totally independent stereo submixes plus a comprehensive Control Room section offer unrivalled monitoring capabilities and unsurpassed routing flexibility.
More information on the RME Fireface UFX.