Mikrosonic Releases SPC Music Sketchpad App For Android
Mikrosonic has released SPC Music Sketchpad, a new music production App for Android phones. You can utilize your own apps or use the ones provided in what Mikrosonic dubs "scenes."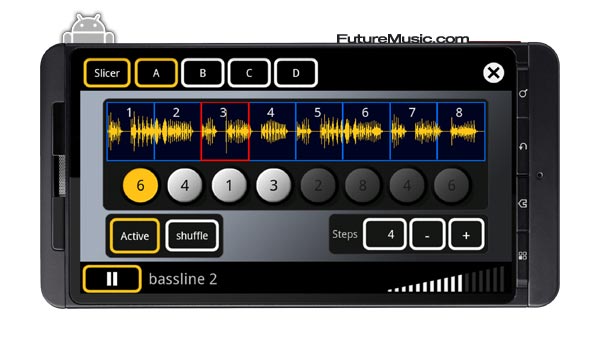 With SPC you can program your own sequences by setting steps and notes. If you already use mikrosonic's RD3 Groovebox app, you can use the loops you've created there within your SPC – Music Sketchpad. The Sketchpad introduces the audio Scene, a 16-pad multi-touch enabled screen that lets you play loops and sequences. The scene is the main element of the Sketchpad. Here you can start and stop music by clicking on one pad at a time. Red pads are for playing loops, while blue pads are for playing sequences. To edit, press "edit" and then select the loop or sequence pad you want to work with. Clicking and holding on a pad will activate its volume control.
Features:
» 16-pad screen mixes loops and sequences
» Loops
» Edit feature with 4 variations for each loop pad
» Slicer for recombining loop elements
» Waveform display
» Up to 8-bar long loops
» Samples and sequencer
» 4-bar sequencer for each sample pad
» Keyboard for setting note information for each step
» Waveform display
» Gain, pan and tuning knobs
» Envelope control with attack and decay
» Multi-touch control
» Sample/loop load in .wav format up to 24 bit 96 kHz
» Recording of performances in exportable .wav format
» Direct integration of RD3 – Groovebox loops
» File sharing capability
» Comes with 2 pre-programmed scenes
» Additional scenes for download at mikrosonic website
Mikrosonic's SPC Music Sketchpad requires Android 2.1 or higher and costs $4.99 in the Android Market. More information on the Mikrosonic SPC Music Sketchpad App.