Review: V-Moda Vibrato iPhone Earphones
V-Moda has released the Vibrato, a refresh of its popular Vibe II iPhone earphones. The Vibrato claims to marry audio fidelity with a quality handsfree iPhone experience and does a solid job of achieving those goals, despite a couple of deficits. Being V-Moda, the company added their forward-thinking stylistic elements including an endcap which looks like an alien turbine, something that should definitely appeal to the young, male gamer demographic.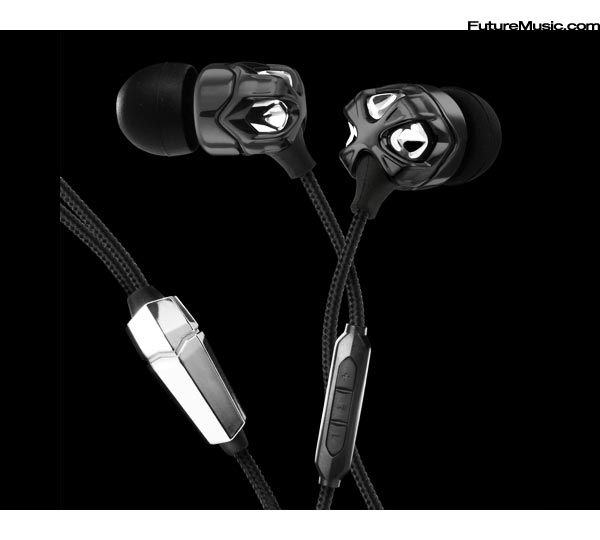 The Vibrato comes with a waxed-cloth, kevlar-reinforced braided cord that adds to the aesthetic and an in-cord remote control which combines the volume, pause/play and microphone elements – instead of two separate units found on the Vibe II. This turns out to be a big improvement. The three button remote replaces the single button action of the Vibe II allowing more control, and one of our reviewers commented that the earphones "look a lot better with just a single remote." The Vibrato maintains the metal chassis from the Vibe II, but swaps out the stainless steel with a Zinc alloy.
Features:
» Frequency Response: 5 Hz – 24 kHz
» Speaker Driver: dynamic HD neodymium driver
» Cables: Kevlar reinforced fabric cable with in-line remote and microphone
» Plug: 45 degree, 24k gold-plated 3.5 mm (1/8″) stereo plug
» Adapter: 3.5mm (1/8″) to 1/4″ adapter included
» Weight: 219g
» Warranty: Two-year V-MODA premier warranty and Replay Replacement Program – 50% off lifetime replacement guarantee
The Vibrato doesn't skimp on the silicon ear pieces, providing eight in a variety of sizes and shape (good for doing reviews with several evaluators –Ed.). V-Moda also rounds out the accessories with a shirt clip and over-the-ear hooks for the sports crowd although none of our reviewers opted for this feature. You'll immediately toss the somewhat cheesy carrying case.
V-Moda's 8mm drivers provide decent sound with an EQ bias towards more bass, an industry trend, but don't stand out in the crowded earphone market. Most of our evaluators found the sound to be acceptable for phone and MP3 use, but tracks with more fidelity revealed distinguishable gaps in the earphone's sonic signature. Due to the beat emphasis of the EQ curve, evaluators found the mid highs and treble suffered, especially on more cinematic offerings. "If you listen to a lot of music on earphones, the Vibrato will never suffice to be the only pair in you own." However, another review discovered that the V-Moda's "struck a nice balance between phone and music functionality."
Although V-Moda changed the location of the microphone, the clear and prominent sound found in the Vibe II, retained its quality. Most reviewers praised the mic's performance, even in weather-challenged outdoor situations such as a ski chair lift ride, but pronounced ambient noise ruined the party. The Vibrato does come with a non-functioning chromed-plastic/rubber element that appears to offer enhanced reinforcement of the Y connection, but as a decorative element, it didn't impress a couple of evaluators.
Lastly, the Vibrato's are spendy. At $129, we were hoping for more from a company like V-Moda. Stylistic elements are great right down to the "ray gun" minijack, but if solid fidelity is important to you, then you may want to consider some other solutions currently on the market.
Cheers:
» Design
» Cloth cord
» Weight
Jeers:
» Chromed Y Jewel
» Overall Fidelity
» Ambient Noise Performance
Off The Record:
"A solid middle-of-the-road product that would certainly benefit from a $30 to $50 MSRP reduction."
—Dan Brotman
"For a 'Club-Oriented' EQ curve, the Vibrato's didn't have enough cajones for my taste."
—Greg Geller
"A nice upgrade from the iPhone's included handsfree earphones."
—Angelina Lynn Cruz


FutureMusic Power Rating: 80%


V-Moda Vibrato's cost $129 and are available now from the Apple Store. More information on the V-Moda Vibrato.