TASCAM Updates DR-07 Handheld Recorder To MarkII Status
Tascam has updated their popular DR-07 handheld recorder to mkII status. The stereo recorder features a pair of adjustable condenser microphones. The built-in mics can be moved from an XY position, for tight imaging, to an AB position, for a wider ambient sound.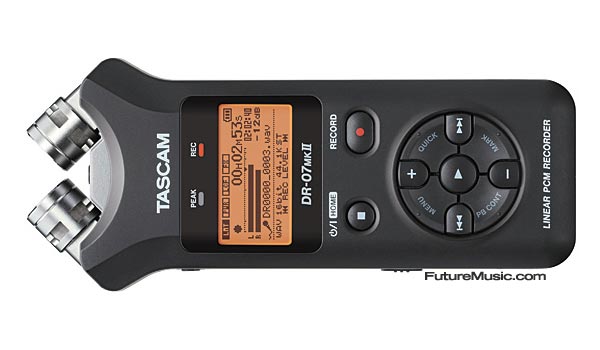 The DR-07mkII features a dedicated power supply for the codec enables the full capabilities of the A/D and D/A converter, and separate analog and digital circuit boards and low impedance circuit design reduce noise in the design. The DR-05 records to microSD or microSDHC media, recording in MP3 or WAV (BWF) file format at up to 96kHz/24-bit resolution.
Features:
» Handheld Portable Recorder
» Adjustable Stereo Condenser Omnidirectional Microphones (XY or AB)
» Up to 96kHz/24-bit WAV (BWF) linear PCM recording
» Stereo MP3 recording from 32-320 kbps bit rate
» Reverb effect
» Overdub recording mode
» Auto Record and Auto Mark functions
» Peak Reduction function to set the optimum recording level automatically even in recording
» Limiter and low-cut filter to help prevent distortion
» Automatic or manual level setting
» Self timer recording starts recording 5 or 10 sec. after pressing the record button for waiting until you are ready
» Auto and manual track increment
» Variable speed playback (50%-150%) without changing the pitch
» Loop and repeat playback
» Level Align feature prevents uneven volume levels during playback
» Playback EQ setting
» Editing function (Divide and delete)
» Up to 99 mark points on each file
» Chromatic tuner
» 1/8" stereo mic/line input
» USB 2.0 port for transfer to PC and external power
» Up to 2-second pre recording buffer
» Jump back function returns to previous point with one action (1-10, 20, 30 sec.)
» 1/8" headphone/line output
» Built-in speaker
» microSD (64MB – 2GB)/microSDHC (4GB – 32GB) card slot (2GB card included)
» Powered by 2 AA batteries, AC adapter (optional: PS-P515U), or USB bus power
» Tripod socket hole
» Dimensions: 2.2" W x 5.5" H x 1" D (55mm x 141mm x 26mm)
No availability has been announced, but it will set you back $150 when it does debut.