Steinberg Releases LoopMash App
LoopMash is a new virtual instrument for iOS devices that allows you to simultaneously blend up to four two-bar loops together by juggling similar elements across looped beats and tunes. LoopMash includes over 40 presets and 250 loops ranging all the way from ethno to disco.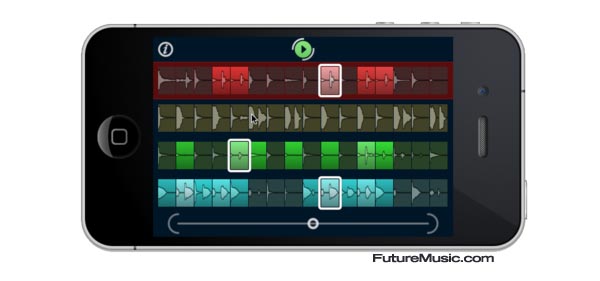 Based on a technology introduced by Yamaha, LoopMash is a stripped-down version of the popular LoopMash virtual instrument featured in Cubase 6. Quality content, intuitive control and 3-D navigation for effortless page browsing make this app a must-have for party-goers, music aficionados and pretty much everyone in between.
Features:
» More than 250 audio loops included
» Over 40 presets
» 3-D swipe-page navigation
» Load and play with up to 4 loops per scene
» 8 scenes available per preset
» 4 studio-grade effects for more sound control
Load high-quality audio loops into your four tracks and start mashing up choons. With over 250 audio loops, the loop browsing works intuitively and allows you to listen in on the loops before you select one. Move the Track Similarity Gain faders of the slave tracks until you find the right groove. Then, pull up the Similarity Threshold to limit the amount of slices to be played. Play around with the Similarity Gains yet again to change the kaleidoscope of sounds.
At the heart of LoopMash is the Slice Matrix page showing four tracks, each two bars long. Make any of the four tracks your master track and the other tracks will follow the assigned track. The Slice Matrix includes basic playback functions such as start/stop and tempo control. There's also access to the help page in the upper left-hand corner. The Settings page provides powerful key controls for performance tweaks, such as Number of Voices, Selection Grid, Selection Offset
and Staccato. The Mix page features a straightforward mixer to easily adjust the volume of the individual tracks. Spice up your performance with the included studio-grade ffects: Lowpass Filter and Hipass Filter, Flangerand Phaser. All the dance floor classic effects are here to make your music sound even gnarlier!
LoopMash features a new and intuitive form of navigating through the app's pages. Not only is the slice matrix shown in a three-dimensional manner on the adjacent pages, but arrows are displayed on each page in order for you to swipe effortlessly from one page to another.
Compatible with iPhone 3GS & 4, iPod touch (3rd and 4th generation) and iPad (compatibility mode with scaled graphics). Requires iOS 4.0 or later. The LoopMash App costs 4 bucks. More information on the Steinberg LoopMash App.