Somatic Circuits Premiers VC-303
Somatic Circuits has announced the VC-303, a Roland TB-303 clone in a modular synthesizer format. The 303 just will not die, and for those who are new to the game and can't afford to pluck down $1700 for a well-maintained used silver box, there's the x0xb0x community. Based on the open source schematics, several garage soldering soldiers are bringing back the acid sound, one build-out at a time.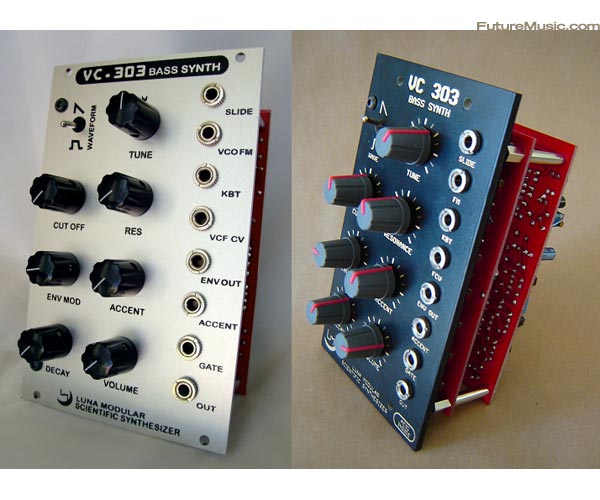 Somatic has developed a modular version of the x0xb0x action for use with active modular systems and comes complete with cloned 303 specs and patch cable inserts.
Features:
» Waveform Select – Saw / Square (303 type).
» VCO Tune.
» VCF Cut-off , Resonance and ENV MOD.
» ENV Decay.
» VCA Accent and Volume
Patches:
» VCO – 1v/oct Keyboard in , Frequency Modulation CV in and Glide 0-5v in.
» VCF – Frequency Control CV in.
» ENV- Envelope CV out , Gate 0-5v in.
» VCA – Accent 0-5v in and Audio out.
Three formats are planned for production:
» FRAC 3mm black shielded FR4 faceplate with gold plated writing. (FR4 is Fiberglass with ground shielding)
» EURO 2mm chromated aluminum with 2 part epoxy silkscreen
» 5U specs TBA
Somatic's Frac version will cost $350 and the Eurorack will set you back $380 when they debut in April. More information on Somatic Circuits VC-303.