Ear Machine Releases iQ – New Equalizer Concept
Ear Machine has released iQ, a new equalizer plug-in concept that was developed to learn the user's preferred sonic signature. iQ recommends equalizer settings by analyzing user ratings of examples. The result is displayed in a traditional equalizer window where users can fine-tune the recommendation.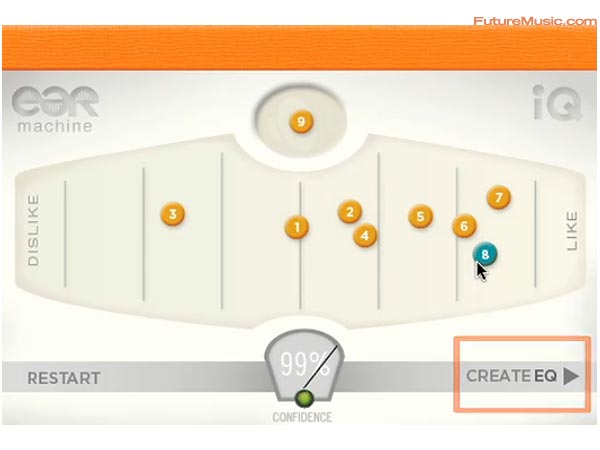 With iQ, users indicate how much they like each of a series of example settings by arranging dots from left to right, where each dot represents a different EQ setting. iQ uses a model of auditory perception to gradually hone in on the user's preference. A meter at the bottom of the window indicates when iQ thinks it has learned what the user wants. The user then clicks "Create EQ" and iQ's recommendation is displayed in a traditional equalizer window. Users can also double click any dot to display it in the equalizer window.
iQ is the first audio plug-in that is designed to learn a user's preference. Ear Machine recently launched a related free web app (myMicSound) that is designed to learn a user's preferred microphone characteristics. iQ is compatible with AU hosts or VST hosts on the Mac or PC, and is compatible with RTAS wrappers.
Ear Machine's iQ costs $19 and is available now. More information on Ear Machine iQ.