Manufacturers Announce Support For Intel's New Thunderbolt Protocol
Several music manufacturers including Apple, Avid, Universal Audio and Apogee have announced support for Intel's new Thunderbolt technology. Developed by Intel and initially brought to market with technical collaboration from Apple, Thunderbolt technology is a new, high-speed, dual-protocol I/O technology designed for audio and video connectivity performance.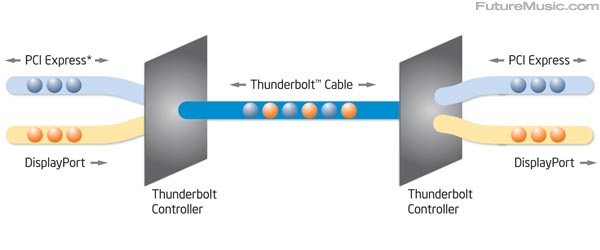 Features:
» Dual-channel 10 Gbps per port
» Bi-directional
» Dual-protocol (PCI Express and DisplayPort)
» Compatible with existing DisplayPort devices
» Daisy-chained devices
» Electrical or optical cables
» Low latency with highly accurate time synchronization
» Uses native protocol software drivers
» Power over cable for bus-powered devices
Developed under the code name Light Peak, Intel's Thunderbolt controllers interconnect a computer and other devices, transmitting and receiving packetized traffic for both PCIe and DisplayPort protocols. Thunderbolt technology works on data streams in both directions, at the same time, so users get the benefit of full bandwidth in both directions, over a single cable. With the two independent channels, a full 10 Gbps of bandwidth can be provided for the first device, as well as additional downstream devices. All Thunderbolt devices share a common connector, allowing users to daisy chain devices one after another with interoperable cables.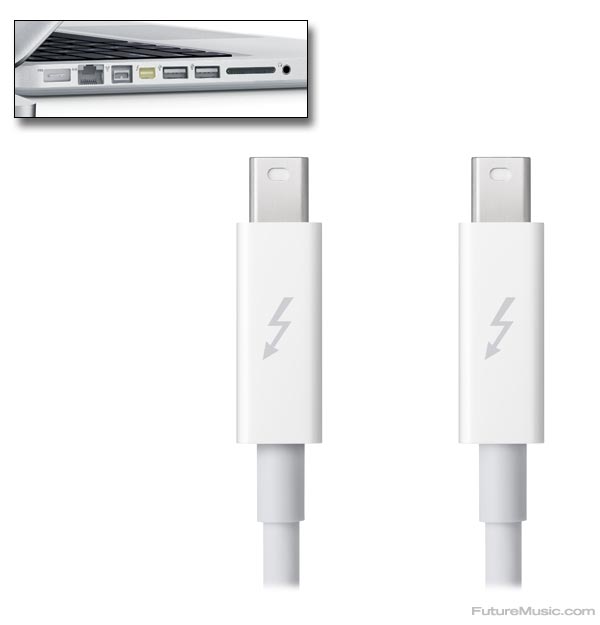 Thunderbolt technology enables using the thinnest and lightest laptops and connecting to the extra power and performance of other devices when needed, using a single cable. Thunderbolt technology was specifically designed with professional audio and video applications in mind, where the inherently low latency and highly accurate time synchronization features play a crucial role.
Apogee Electronics's Director of Marketing Sean McArthur understands the implications of such a high-speed protocol. "Simply stated, Intel's Thunderbolt technology on the Mac marks the end of difficult choices and the beginning of unlimited performance," he says. "In the near future, Thunderbolt will take the confusion out of choosing a professional connectivity standard for audio production."
Apogee R&D designed architecture perfectly suited to embrace Thunderbolt. Symphony I/O's modular, user definable system was the first step. AD/DA conversion modules were designed to be independent of the Symphony I/O Chassis. This allows Apogee to address interfacing from the Chassis level without impacting I/O module implementation.
"We are really excited about Thunderbolt," continues Apogee's Sophie Kipner. "With this I/O technology, a MacBook Pro and Symphony I/O can become an incredibly high-performance recording solution that you can take anywhere. When designing an interface, Apogee has had to choose between performance (PCIe) and convenience (USB, Firewire). Thunderbolt offers an interface protocol that is better than both of those worlds — a transfer rate that's higher than PCIe, a connection that's more robust and simple than USB3, and more wattage than Firewire (for powering devices). Thunderbolt is quite simply the perfect no-compromise format for the Mac-based digital audio interface."
Senior Director of Audio Product Management, Max Gutnik adds, "Thunderbolt provides users with the kind of performance previously reserved for workstation class computers. To have not one, but two 10Gbps, multi-protocol, and daisy chainable channels over a single cable is great for high-end audio and video solutions and will have a positive impact on the tech industry."
Apple has outfitted their new MacBook Pros with the Thunderbolt port, which also doubles as a new display interface. Thunderbolt delivers PCI Express directly to external high performance peripherals such as RAID arrays, and can support FireWire and USB consumer devices and Gigabit Ethernet networks via adapters. Thunderbolt also supports DisplayPort for high resolution displays and works with existing adapters for HDMI, DVI and VGA displays. Although Apple understands the new protocol will not have products immediately available, they often like to be first out of the gate with new technology and this gives the latest MacBook Pro refresh some promotional traction. The ability to use the port for connecting external displays is a sophisticated and savvy play as well.
More information on Intel Thunderbolt.