GEAR4 & Novation Announce Pocketloops
GEAR4 and Novation have partnered to develop Pocketloops, a portable music creation studio for the iPhone and iPod touch. GEAR4 is primarily known for their Unity Remote.
The micro Pocketloops keyboard connects to the iPhone or iPod touch and allows the user to create their own music tracks, via thePocketloops app, available to download for free on iTunes…although, the keyboard will set you back $70.
The product comes with a step-by-step tutorial and at the touch of a key, allows budding producers to start creating, remixing and sharing their own music instantly, straight from the Pocketloops app. Whether into heavy metal, house, hip hop, dub step or drum 'n bass, Pocketloops offers beats, rhythm and synths to suit every type of music genre.
Pocketloops enables music fans to build up a unified sound using it's advanced looping technology, which allows the user to record and layer loops like basslines, guitar riffs and melodies. Creating the sound they want, the user can then add effects to make the tune more dynamic with the three three built-in effects, echos, chorus and the XY filter pad. Finally, they can polish the track off with solos using the 13 included synths, organs, pianos and more.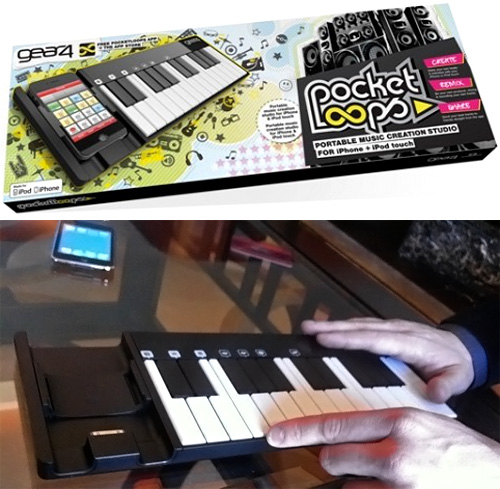 Then when the track is finished, users can share it with their friends via email, straight from the app. Pocketloops comes with: the Pocketloops keyboard, a user manual and three dock adaptors for iPod / iPhone.
The Pocketloops combo will cost $70, no availability has been officially announced. More information on Pocketloops.