Alesis Premiers StudioDock – iPad Audio Interface
Alesis has announced the StudioDock, a new device that enables anyone with an iPad to create, produce, and perform music with virtually any pro audio gear or instruments. Now this is one of the best ideas to emerge from the NAMM show that we've seen.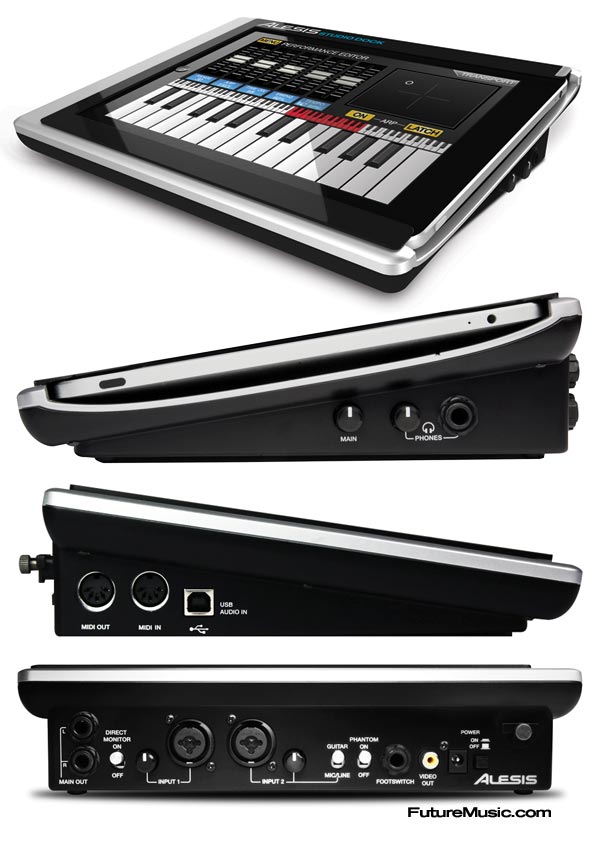 The StudioDock is a universal docking station specifically designed for the iPad, and it gives musicians, recording engineers, and music producers the connectivity they need to create and perform with iPad.
With the StudioDock and an iPad, musicians and producers can record, perform, craft and create music in virtually any situation or location. Built to accommodate all current app-development standards including Core MIDI, the StudioDock is a universal device that bridges your choice of music-creation apps, instruments, and devices.
Features:
» First pro audio dock for iPad
» Connect microphones and instruments including guitar, studio monitors, PA speakers, headphones, and MIDI controllers
» Universal device works with virtually every audio and MIDI app in the App Store
» Core MIDI compliant
» Video output for connection to TVs and projectors
» Inputs: two combo XLR-1/4″ for use with audio gear, instruments, and computer audio
» Input channel gain controls and switchable phantom power for use with condenser microphones
» Guitar-direct switch for use with amplifier- and effects-modeling app
» Outputs: pair 1/4″ and 1/4″ headphone with separate volume controls
» Control: MIDI In, MIDI Out, USB MIDI, and assignable 1/4-inch footswitch input
I» Quick start guide
The StudioDock provides microphone and instrument users with two combination XLR and 1/4-inch inputs, each with its own gain control and switchable phantom power for condenser microphones. Guitarists and bassists will appreciate the StudioDock's guitar-direct switch, enabling them to play, perform and record right into amplifier- and effects-modeling apps. Bands can connect outputs from their mixer and easily record their performances and rehearsals or use the StudioDock as a metronome or loop-playback device.
Producers can use the StudioDock's MIDI jacks to sequence external keyboards, samplers, drum machines and synthesizers, or perform using the StudioDock as the sound module and their favorite MIDI-compliant keyboard, drum pad or other controller. An assignable 1/4-inch footswitch input enables remote control of any app-defined function such as stop/start or record. Users can also connect the StudioDock to their Mac or PC using the USB port to send MIDI back and forth for creative, new applications of the iPad and computer used in tandem.
Users can connect the StudioDock's stereo pair of 1/4-inch main outputs to studio monitors for critical listening, or to PA systems for use in performance settings. They can monitor on headphones, and independently control the levels of the two outputs, each on its own knob. The StudioDock's direct-monitor switch enables users to toggle between the incoming and playback signal on their headphones. Rounding out the StudioDock's output section is a composite video connector, enabling users to employ the StudioDock as a source for video projection behind bands on stage, or for connection to most televisions and computer monitors.
The StudioDock completely houses the iPad on the bottom and three side surfaces. It also encases the iPad's screen in a protective bezel on three of its four edges, further shielding the mobile computing device from the potential for damage in punishing environments.
The applications of the iPad for music creation, production, and performance are limited only by your creativity. As an imaginative, cutting-edge music maker, the StudioDock empowers you to seamlessly connect the world of pro audio gear and instruments to the iPad and the massive collection of apps.
No pricing or availability has been announced. More information on the Alesis StudioDock.