Cyberstep Announces All-In-One Touchscreen DAW Workstation
Now this is interesting…
Coming out of nowhere is the KDJ-One, an all-in-one, touchscreen DAW (Digital Audio Workstation) from Cyberstep. The KDJ-ONE provides a completely portable and wireless handheld production system featuring a virtual analog synthesizer, sequencer, and a multitrack audio editing environment.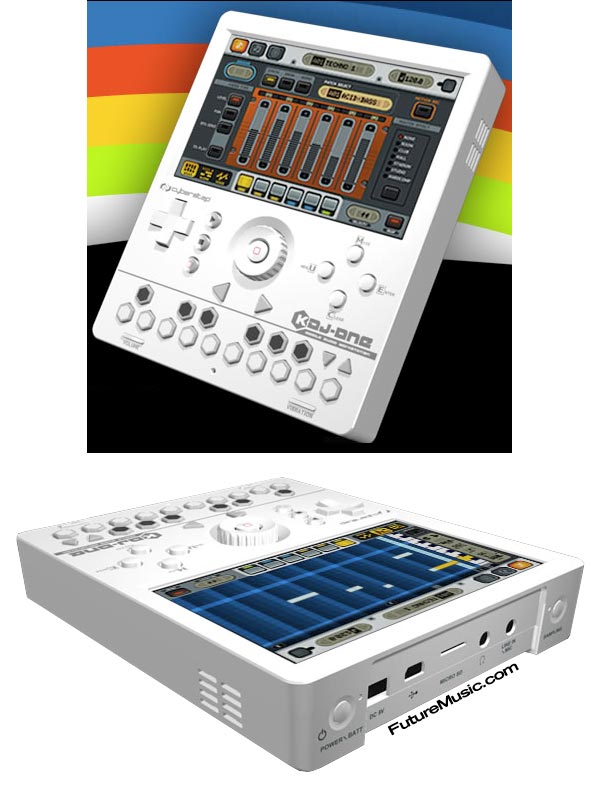 Features:
» CPU: Intel ATOM E640 1.0GHz
» Display: 5.0 inch WVGA (800×480) with Multi-Touch Panel
» Main Memory: 512MBytes
» SSD: 4.0GBytes
» External Storage: microSD, USB Memory
» Battery: Lithium ion battery 2000mAh x 2
» Connection Interface: USB 2.0, wireless LAN
» Audio I/O: Mic/Line in, Line out, Built-in mic
» Speaker: 0.5W (0.25W+0.25W Stereo) 120Hz – 20,000Hz
SYNTHESIZER
» Max Polyphony: 64 voices
» Waveforms: 238 types (multi-layered)
» Oscillators: 2 units, 10 algorithms
» Filters: 7 types
» Modulators: 4 units, 10 algorithms (Step Modulator compatible)
» Preset Programs: 200 voices, 100 drum kits, 100 audio clips
» Max Audio Space: 1GB per project
» Effects: 20 types, 2 effects per track + master effects
SEQUENCER
» Tracks Per Pattern: 6
» Tracks Per Song: 2
» Note Resolution: 384 ticks per quarter note
» Tempo: 40 – 400 bpm
» Recording Modes: Loop (real time) recording,
» Step recording
» Score Editing Mode: Piano roll
» Pattern Length: 999 bars
» Song Length: 9,999 bars
» Number of Patterns: 999 per project
» Number of Songs: 99 per project
» DATA / PC LINK
» Import WAV (ACID Format), OggVorbis
» Export WAV (ACID Format), OggVorbis, SMF
» DAW Plug-in: VSTi, Audio Unit
» OS Compatibility: Windows XP/Vista/7, Mac OS X 10.5 or later
APPEARANCE
» Keypad: 15 LED lit keys, octave up/down buttons
» Controller: D-pad, 6 buttons, 3 LED lit buttons,
» 1 jog dial, sampling button, etc.
» Vibration: QW
» Size: 126mm x 150mm x 27mm
» Weight: 380g
Built-in speakers, mic, WLAN, and lithium battery make KDJ-ONE a completely portable and wireless handheld production environment. Additionally, a vibration system adds unique force feedback to your music creating experience.
The KDJ-ONE features combination of multi-touch screen, keypad, and jog dial allows for a fluid and intuitive control system unlike that of any existing hardware or software. Its runs Intel MeeGo Handset Edition as its OS, and supports all of MeeGo's features including web browser, Skype, media player, and more. This new digital audio workstation is built-in KDJ2 Synth features 10 synthesis algorithms, 20 effects, 7 filters, and 4 modulation units including step modulation.
ACID formatted samples may be loaded directly into KDJ-ONE's audio tracks and time-stretched just as in ACID, creating a whole new world of possibilities; likewise, patterns created with the KDJ-ONE may be exported directly to ACIDized WAV format. The 6 track pattern sequencer includes automation/motion sequencing, loop recording, step recording, piano roll, and all other standard sequencer features.
The KDJ-ONE also features a Unique Song Mode allows DJ style mixing of two patterns in real time and may be used as a VST via built-in wireless LAN; internal settings and data are also editable from the computer. The "QW" vibration system sends vibrations from your music directly to your fingertips, adding a whole new element of force feedback to your music production experience; the vibration system even works with KDJ's built-in games.
No pricing or availability has been announced. More information on the Cyberstep KDJ-One.