Five12 Upgrades Numerology To Version 3
Five12 has upgraded Numerology to version 3. Numerology 3 is a music sequencing and audio plug-in environment for Mac OS X, which uses an innovative approach to electronic music composition based on modular step sequencing.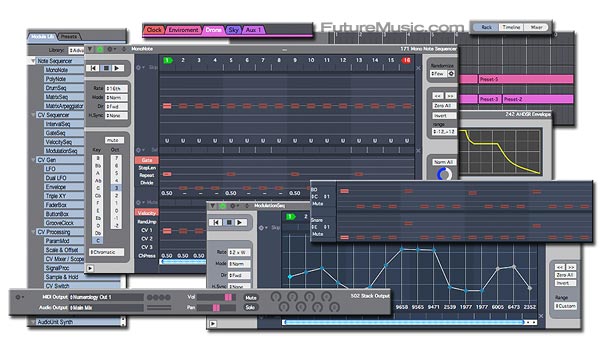 With version 3, Numerology now comes in two flavors: a Standard Edition for anyone that wants an economical step sequencing addition to their studio, and a Pro version with advanced features for users looking to make Numerology a cornerstone of their compositional workflow.
Another major addition is an AudioUnit version of Numerology that allows users of supported hosts to add advanced step sequencing to their DAW-based workflow. The Numerology AU is the first Audio Unit plug-in to offer sample-accurate MIDI scheduling and built-in latency control.
The musical technique of step sequencing has been around for quite a while. In fact, the very first electronic sequencers of any kind were step sequencers. But there are limitations: Fixed numbers of steps, fixed speed settings and pitch ranges. Limited numbers of voices, or presets, or routing options. Numerology gives you a step sequencing environment that provides all the immediacy and experimentation that you are looking for — but removes the limitations. It does this by giving you several powerful but easy to use sequencing modules and a flexible virtual studio environment for them to live in, complete with audio plug-in hosting, audio mixing and a timeline for building arrangements.
Numerology's sequencers are full-on MIDI and CV step sequencers that on their own are more powerful than most hardware sequencers, while still offering enough flexibility to satisfy even the most die-hard tweaker. In addition, a full suite of companion modules can be mixed and matched with the sequencers to expand their capabilities. LFO's, Envelopes, CV Mixers, MIDI Generators, processors, and more. There is even an integrated parameter modulation feature that makes it easy to automate anything from just about anything else.
Other highlights of Numerology 3 include new generative sequencing options, a completely revised user interface, a preset playlist, a humanize function, Audio and MIDI recording for every part, and several new and updated modules. These features expand and complement the capabilities provided by Numerology's extensive list of sequencing and signal processing modules. With version 3, Numerology's library of modules now numbers more than 50, not including hosted Audio Units.
The Generate and Evolve features in Numerology 3 allow users to explore new compositional territory by using generative algorithms both to create new patters, and to make transformations to existing patterns. The Generate feature includes 18 algorithms for generating new patterns, and is setup to allow users to easily control the musical context in which the pattern is generated. Evolve goes a step further by allowing users to program specific algorithmic changes to a sequence. These changes can be triggered directly, or setup to automatically repeat for regularized pattern modulation.
Features specific to the Pro version of Numerology include multi-output support for hosted AudioUnits, monophonic audio routing support, OSC support, custom scale quantization, and several new modules specifically oriented for building advanced sequencer setups. Included in that set are gate generator and clock offset modules, a CV To Audio module for driving an analog synthesizer directly from Numerology (with a DC-capable audio interface), and a pair of operator modules supporting a total of 61 functions.
Both the Pro and SE versions of Numerology 3 come with much improved synthesis options for the built-in sample-based SampleSynth and DrumKit modules. These modules now include a multi-mode filter, 2 AHDSR envelopes, a beat-synchronized LFO and a modulation matrix. Complementing these additions are a new set of built-in audio effects, including tempo-synchronized delays, multi-mode filtering, and a ring modulator.
Two new features in Numerology 3 greatly expand user options for storing and sharing presets and patterns, the Stack Library and Module Presets. The Stack Library is a new centralized location for storing part-oriented sequencing and synthesis setups. The Numerology 3 download comes with a library of stacks that include a variety of demo tracks, examples and core sequencing templates. In addition, the new module preset function in Numerology 3 allows users to easily store and load settings for any module. This feature is particularly handy for keeping track of sequencer patterns as well as building preset libraries for the SampleSynth and DrumKit modules.
Last, but not least, Numerology 3 now comes with 222 pages of detailed documentation in PDF format.
Numerology 3 requires an Apple Macintosh computer running Mac OS X version 10.4.11 or later, 2GB or RAM, and a screen resolution of 1024×768 or higher. For MIDI-only use, a CPU speed of 1Ghz or more is adequate, but for AU hosting and audio synthesis, an Intel dual-core processor is recommended. The Numerology AU requires an Apple Macintosh computer with an Intel CPU running Mac OS X version 10.5.8 or later and is currently only supported for Ableton Live (version 8), Apple Logic (versions 8 or 9) and MOTU Digital Performer (version 6 or 7). More hosts will be added soon.
Five12's Numerology 3 SE costs $119 and Numerology 3 Pro will set you back $184. More information on Five12 Numerology 3.