Celemony Unveils Melodyne Essential
Celemony has unveiled Melodyne essential, an especially affordable point of entry into the world of Melodyne featuring everything from direct plug-in operation to modern 64-bit support and the macros that make the task of correcting vocals particularly simple.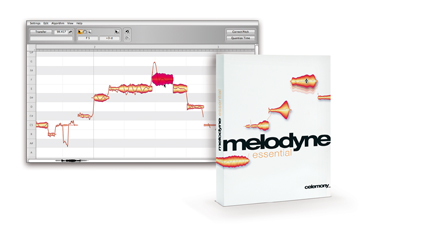 Melodyne essential allows you to manipulate the recordings of lead vocals, monophonic instruments, or drums and percussion by dividing up the audio based on the pitch, position in time, and length. You can then modify the audio data on a piano-roll graphic display allowing subtle corrections can be made, or the melody and rhythm altered. If desired, the tried-and-tested Melodyne macros for pitch and timing correction can also be employed. Notes can be moved and copied at will, which – among other things – makes it possible to add additional voices and chords to melodic material or breaks to rhythmic material.
Melodyne essential operates from the same technological base as Melodyne editor. That means optimal sound quality, a user-friendly interface, modern 64-bit support and silky-smooth operation, whether it's running in stand-alone mode or as a VST, AU, or RTAS plug-in in compatible DAWs. All editions in the Melodyne editor family are compatible with one another and easily upgraded. Documents created by any one edition can be opened in any other and edited using the functions and tools the latter provides. Melodyne essential is supplied with a video tutorial that makes getting started easy.
Melodyne essential is available now for $69 for a limited time. More information on Celemony Melodyne essential.