Native Instruments Announce Maschine 1.6 Update
Native Instruments has revealed new features and enhancements for their Maschine hardware/software combination. The biggest new ingredient in the 1.6 update has to be the ability of Maschine to host VST and AU plug-ins, expanding the product for both Mac and PC users into DAW territory.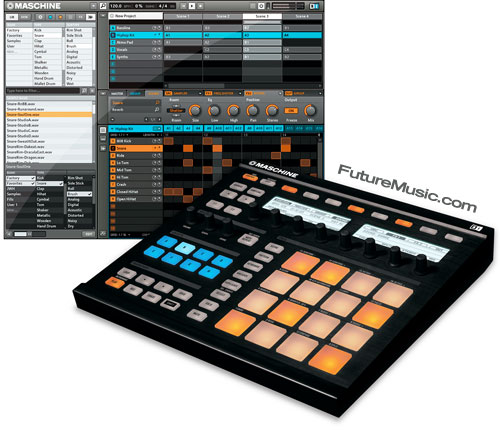 When Maschine first debuted, it was apparent to the editors at FutureMusic that NI was going to use the computer "drum machine" as a centralized DAW "hub" to connect all of their products. (See Ghost In The Maschine 2|10|09 —Ed.) Now that prediction has taken one step closer to reality. Last month, NI announced via a NI users group forum post that the next Maschine update would feature the ability to host VST/AU plug-ins. Presumably a preemptive strike before the word got out during the beta testing phase, which is now in full swing.
Enhancements:
» Plugin hosting for VST/AU instruments and effects
» Increased number of effect slots (3 per Sound, 4 per Group, 4 on Master)
» New "Pad Link" function with 8 pad groups and Master/Slave option
» Individual swing setting per sound
» Clip naming
» Sample renaming
» Improved scene duplication
» External audio input/output increased to 16 stereo channels
» Improved Drag 'n' Drop, including rearrangement of scenes and patterns
» Snap-to-grid when moving events via mouse
» VST plugin operation under Mac OS X (64 bit)
» REX import under Mac OS X (64 bit)
We'll speculate that most obvious indication of how NI will migrate Maschine into a true DAW will be when the company unveils a new touch-screen controller that will allow a user to control the full breath of NI's products from one interface.
Native Instruments Maschine 1.6 update will be free to registered users and will most likely debut in January. More information on Native Instruments Maschine.