Mr. Jones Announces Tom Middleton BPM DJ Watch
Mr. Jones Watches has announced the Tom Middleton BPM, a new timepiece designed for DJs or even punters who want to know the approximate tempo of a track.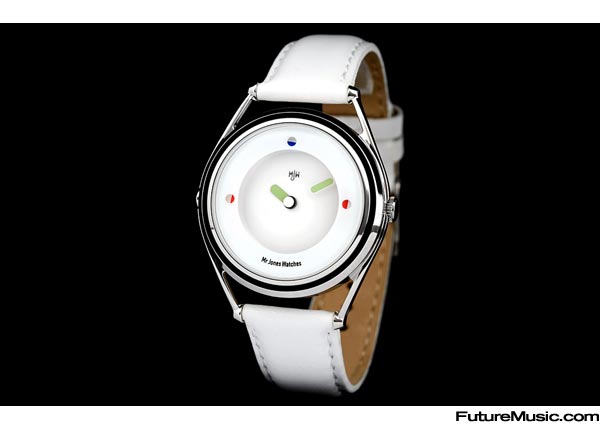 "To calculate the bpm of a track: wait until the seconds hand aligns at 9, 12 and 3 on the watch (denoted by a full white circle) and start counting the quarter notes/beats as you're listening to the music. You'll see the white circles gradually filling up with red and blue — stop counting when the white circle appears again. Multiply the count by four and you have the bpm."
—Tom Middleton
This watch is available in an edition of 100 picces, each watch numbered on the caseback and comes with an insert card signed by both Tom Middleton and Crispin Jones.
Specifications:
» Case: Stainless steel
» Strap: White leather with white stitching
» Width (3 o'clock to 9 o'clock): 37mm
» Height (from lug to lug): 46mm
» Mechanism: Single jewel quartz mechanism
» Waterproof: 5ATM
» Guarantee: 12 months
The watch comes in an MJW presentation box with a specially commissioned artwork by Hannah Davies. Inside the box you'll find the guarantee card – every watch is guaranteed for 12 months from the date of purchase against any original manufacturing defect.
The Mr. Jones Watches Tom Middleton BPM costs $200 and is available now in limited quantities. More information on the Mr. Jones Watches Tom Middleton BPM.