Zoom Now Shipping HD Audio / HD Video Q3HD
Zoom is now shipping their new Q3HD Handy Video Recorder, the only handheld to record both HD video and HD audio (24-bit/96kHz). The Q3HD combines Full HD 1080p video with Zoom's audio technology and a new, icon-based interface.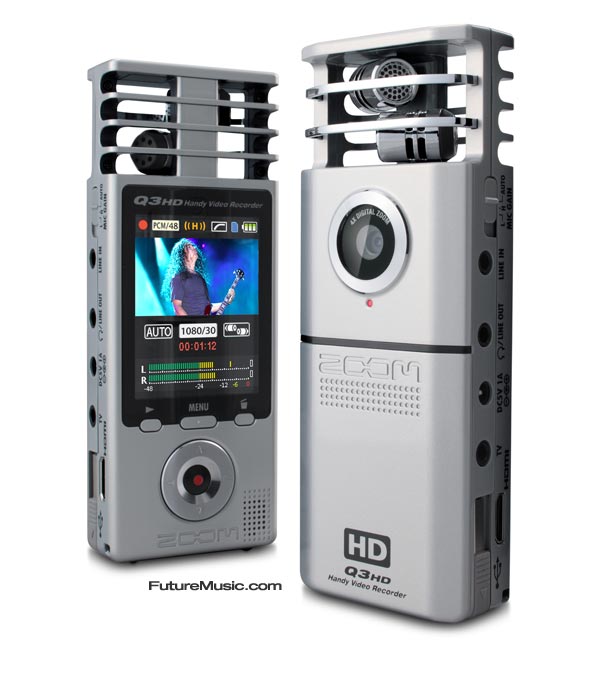 The Q3HD records in both Full HD 1080p at 30 fps (frames per second) and 720p at 30 or 60 fps. Zoom paired its redesigned larger aperture with three lighting settings to ensure the correct amount of light in every shot. Zoom's exclusive "Concert Lighting" setting allows the camera to capture clear, detailed videos even in light-intensive environments that would cause most camcorders to wash out.
Zoom smartly incorporated the same microphone capsules used in their H4n recorder, configured in a wide 120° X/Y pattern, offering stereo recording quality. After shooting, videographers can turn the Q3HD on its side to watch videos in 16:9 format on its color LCD screen or take advantage of the built-in HDMI port to viewon an HDTV. The Q3HD also has a built-in USB 2.0 cable to transfer, view and edit movies on a PC or Mac.
The Q3HD comes with a 2GB SD card that provides up to 45 minutes of HD video and accepts up to a 32GB SDHC card for approximately 7 hours of HD video. Zoom also includes HandyShare editing software and two AA batteries.
The Zoom Q3HD is available now for $299.99. A Q3HD accessory package (APQ-3HD) that includes a soft shell case, windscreen, AC adapter, HDMI cable, AV cable and tripod can be purchased separately for $39.99. More information on the Zoom Q3HD.