Amazona Unveils Tyrell "Dream Synth"
We recently received an email from Peter Grandl, Editor of the German online electronic music magazine, Amazona, regarding an "experiment" they conducted with their readers. What started out as a simple poll — What would be your dream synthesizer? — blossomed into the complete mock up of the Tyrell you see below, complete with a detailed layout and full technical plans.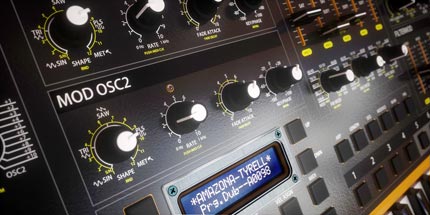 We don't know if the Tyrell is a nod to the infamous Tyrell Corporation from the movie Bladerunner — "More Human, Than Human" — but the project has gained so much momentum over at Amazona, that Grandl is hoping that the synth may actually get produced, if it generates enough interest from a big-league manufacturer.
This type of "crowd-sourcing" is nothing new, but this is one of the first endeavors specifically tailored to developing a new synth, and may pique the interest of a more traditional concern like Roland who could use a good kick in the pants of innovation. (Although, one should note that Roland will be debuting a new high-end synth at NAMM this year. —Ed.)
Features:
» True Analog
» 8 voices
» 2 oscillators
» Oscillator sync
» FM, ring modulation and pulse modulation
» Waveforms: sine, saw and two different noise waves (morphing from sine to saw)
» Multimode filter and band-pass filters
» Arpeggiator
» Two ADSR envelopes
» Three LFOs
» MIDI, Arpeggiator MIDI Sync and CV/gate in/out
"All we need now is a brave [manufacturer] to make the Tyrell dream come true," Grandl states. The uphill battle that Grandl and his readers face is simple. For a manufacturer to take on this project, they'll want a nice Return On Investment. And expensive, boutique-y, analog synths don't provide that type of revenue. That said, if the Tyrell has a special sound that can't be duplicated, it may be a different story. Unfortunately, we can't hear it…
Maybe what Grandl and his readers should do is all donate money to create a prototype…then shop it to manufacturers. Even if they don't find a major to take on the endeavor, they'll find out their real world costs and then the Amazona crowd can decide if they want to manufacture it themselves.
More information on the Amazona Tyrell.