UVI Releases ElectroBeats By David Guetta App
UVI has released the ElectroBeats App, an intuitive beat making application conceived in collaboration with producer David Guetta.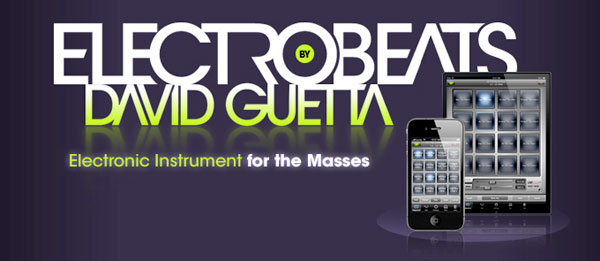 ElectroBeats featues a realtime workflow experience with sixteen pads and five different modes: Pad, Pitch, Velocity, Erase, Mute/Solo.
Features:
» Exclusive and electro oriented sound library, with hundreds of samples including Bass Drum, Snare, Clap, Rimshot, Cymbal, Hi-Hat, Open Hi-Hats, Acoustic Percussion, Electronic Percussion, FX, Bass, Chords, Leads, Instruments, Vox…
» Two sound generators: sample playback and synthesis oscillator.
» Dozens of ready to use drum and construction kits.
» Hundreds of patterns to use with the drum kits.
» Note Repeat in multiple resolutions.
» Dynamically change the quantize/repeat resolution while recording
» Quantization
» Bounce song in Wav format.
» Multitrack export for use in DAW's like Logic, Live, ProTools, Cubase and others
» Tap Tempo.
» Realtime previews (pattern, kits and sounds).
» Convenient undo with snapshots support.
» EXCLUSIVE: includes the sounds from David Guetta's new single "Who's That Chick" featuring Rihanna.
» Embedded help in English, French, Spanish and Japanese.
In the main page most of the musical action can be done in realtime thanks to the sixteen pads that drive five different modes (Pad, Pitch, Velocity, Erase and Mute/Solo) to play with the sounds in various way. The repeat feature with multiple resolution is one of the keys to make very fast beats.
The 5 pad modes:
» Pad: Each pad plays its own sound.
» Pitch: Pads play the same sound at different notes (change the octave by sliding on the pads).
» Velocity: Pads play the same sound at different levels.
» Erase: In record mode, it erases what the pad is playing when you press it. When the sequencer is not running it erases every notes from the selected pad.
» Mute/Solo: Simple click mutes the pad / double click soloes the pad.
UVI's ElectroBeats App costs $10 and is available now. More information on UVI ElectroBeats By David Guetta.