TC-Helicon Announces Vocal Products
TC-Helicon has announced several vocal-based products inlcuding the VoiceTone Correct XT, Mic Control and the VoiceTone Singles pedals.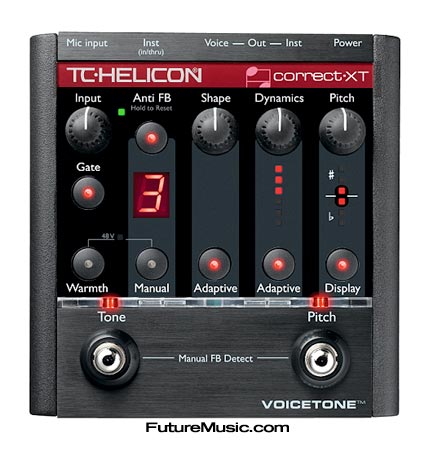 With TC-Helicon's VoiceTone Correct XT, professional sounding vocals are now within the reach of any vocalist. Updated from its winning predecessor, Correct XT makes it quicker and easier for any vocalist to get that polished, produced sound.
Correct XT contains all of the tools needed to deliver a professional vocal sound in one easy-to-control, hands-on pedal. The Adaptive Dynamics control combines with de-essing and Adaptive Shape EQ to ensure bright and smooth vocal performances and unparalleled tone every time, no matter what the vocal style.
Correct XT contains TC-Helicon's Adaptive Tone technology, EQ and Dynamics automatically adapt to suit a wide range of vocal material. Correct XT also contains a host of improvements with the added security of active anti-feedback. Correct XT also contains auto-chromatic pitch correction that works regardless of what key or scale you're singing in.
Features:
» Adaptive gate gently reduces background noise when no input signal detected
» Balanced XLR input/output
» USB connection to free VoiceSupport application that offers tips, tricks and updates
» Multiband anti-feedback stays on alert for feedback and clamps it automatically and quickly
» Individual controls allow quick and precise adjustment
» Auto-chromatic pitch correction requires no key or scale
» Advanced controls alter Shape EQ and dynamic response to best suit singing style if desired
» Pitch correction on/off footswitch independent of tone shaping
» Studio quality mic preamp with phantom power
» Instrument input can be used as a convenient balanced XLR, DI output
» Connects easily with other VoiceTone pedals to define personal effect chain
» Correction on and off can be done from the optional MP-75 microphone
TC-Helicon also unveiled Mic Control, which allows vocalists to control TC-Helicon effects directly from the microphone. Mic Control allows for communication between TC-Helicon's new Mic Control equipped MP-75 microphone and its most popular vocal effects devices, including VoiceLive 2, VoiceLive Touch and VoiceTone products with USB (including the recently announced VoiceTone Singles) through a single button on the barrel of the microphone.
With products such as VoiceLive 2 and VoiceLive Touch the button is user-configurable, allowing Mic Control to be tailored to suit the way you want to work. With the patent pending Mic Control any vocalist can now switch effects in or out of the signal path without having to interrupt the flow by looking for pedals or switches, or having to be where the effects are on the stage.
TC-Helicon also announced the arrival of the VoiceTone Singles. a range of four vocal processing pedals. Each of the four effects has inherited algorithms from the VoiceLive 2: T1: Adaptive Tone and Dynamics, C1: HardTune & Correction, D1: Double & Detune and R1: Vocal Tuned Reverb.
Up to four VoiceTone Singles can be connected together with the Singles Connection Kit to form the ultimate vocal processing chain. The kit includes a 12V power supply, 3 x DC daisy-chaining connectors, 3 x short XLR cables.
Features:
» Mic-pre with phantom power
» Balanced XLR output
» Recessed gain knob that prevents accidental bumps on stage when grinding the mic with your pelvis
» Die-cast steel design
» Rubberized base
» Remote Mic Control with TC-Helicon MP-75 microphone
VoiceTone T1 – Adaptive Tone & Dynamics
» Adaptive Shape tailors EQ to your voice in real time
» Adaptive Compression & De-essing help voice to fit in to the recording
» Punch in the Warmth control for added low-end presence
VoiceTone C1 – HardTune & Correction
» HardTune algorithm ported directly from VoiceLive 2
» Guitar in/thru input for hands-free control of key and scale
» Manual selection of key / scale for non-guitarists
» Adjust from subtle, natural pitch correction to HardTuned vocals
» Added Gender control for even more expressive control
» Chromatic mode for 'set and forget' live correction
VoiceTone D1 – Doubling & Detune
» Double algorithms are taken from the VoiceLive 2
» Eight different styles allows a range of doubling and detuning effects
» New synchronized voicing scheme adds ultimate realism
» Dry / Wet mix rotary for the ideal blend
VoiceTone R1 – Vocal Tuned Reverb
» Reverb algorithm tuned for classic and contemporary vocal reproduction
» 8 pre-authored styles offer ease of use and a variety of spaces
» Dry / Wet mix control for easy blending
TC-Helicon'sMP-75 will be available sometime February 2011 for $210 / €160.
Correct XT will be available sometime during December 2010 for $345 / €235.
The VoiceTone series will be available sometime in January 2011. VoiceTone T1: $179 / €122; VoiceTone C1: $235 / €160; VoiceTone D1: $205 / €140; VoiceTone R1: $205 / €140.
More information on TC-Helicon's New Vocal Gear.