Friday Madness: Orca PowerStrap
Orca has released the PowerStrap, a beefy battery wrist strap, which claims to recharge a multitude of portables from iPods to Blackberry and even your Nintendo DS. The strap's aesthetics are somewhat in the love it / hate it realm, but what Orca should have done is combine their battery technology with some of that newfangled Phiten action to really up the ante.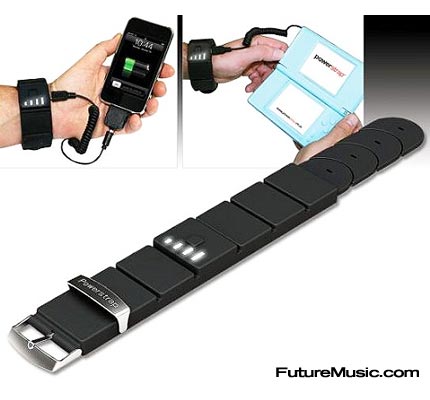 You can charge up the PowerStrap itself via a USB port via either AC or the power socket in your car.
Features:
» One wrist strap charges a multitude of gadgets
» "Futuristic" design with LED power indicator lights
» Adjustable strap (one size fits all).
» Charge the strap up via USB, USB AC adapter or in-car 12V (cable included, mains adapter not included).
Suitable for charging the following devices: iPod/iPhone, Nintendo DS/DS Lite/DSi, Sony PSP, Nokia (mini), Samsung mobile phone, Female USB devices, Sony Ericsson mobile phone, Nokia mobile phone, Blackberry, LG mobile phone, Male USB (for charging the strap itself).
Orca's PowerStrap costs £40 and is available now. More information on the Orca PowerStrap.