Audioengine Debuts N22 Desktop Audio Amplifier
Audioengine has announced the N22 Desktop Audio Amplifier. The N22 is a compact integrated stereo power amplifier and quality headphone amp, which can integrate with passive speakers, personal digital music/video players, and even provide wireless audio via their W1 wireless audio adapter.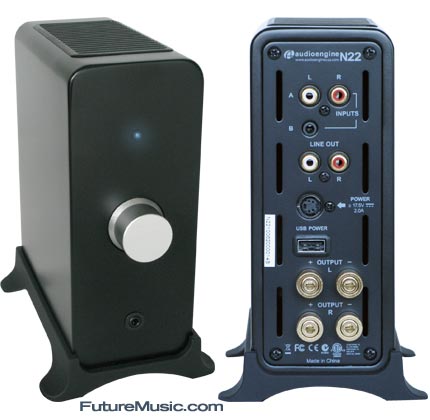 Pair the N22 amp with the company's passive Audioengine P4 monitors, or your own speakers, for a upgraded mini desktop audio system. Connect a subwoofer via the variable line output and charge your iPod via the USB power port. Two audio inputs are standard so you can plug in your computer, iPod or stereo directly.
The vertical design of the N22 with its integrated stand allows the 22 watt/per channel stereo class A/B amplifiers to run cool through passive convection without a fan or heatsink. For headphone enthusiasts the N22 includes a low-noise discrete Burr-Brown/TI amplifier.
Features:
» 22 watts RMS power per channel
» 2 inputs for iPod, iPhone, computer, etc.
» Quality headphone output
» Variable preamp output
» USB charge/power port
» Gold-plated speaker connectors
» Analog volume control
» Detachable power cord
» Power-saving idle mode
» Hand-finished MDF wood cabinet with integrated stand
» All cables included
» Output power: 80W peak total (22W RMS/40W peak per channel), AES
» Amplifier type: Dual Class A/B
» Voltages: 110-240V, 50/60Hz auto-switching for worldwide voltages
» Inputs: RCA and 1/8″ (3.5mm) mini-jack
» Outputs: RCA variable preamp
» Speaker outputs: 5-way binding posts
» SNR: >95dB A-weighted
» THD+N: <0.02% at all power settings » Frequency response: 20Hz-22kHz +/-1dB » Dimensions: 7"(H) x 2.75"(W) x 5.5"(D) » Weight: 3.55 lbs (1.6kg) » Finish options: Satin Black The Audioengine N22 Desktop Amplifier retails for $199 and is available now. More information on the Audioengine N22 Desktop Amplifier.