Bang & Olufsen Unveils BeoSound 8 – iPod Dock
Bang & Olufsen has unveiled the BeoSound 8, their first iPod/iPhone dock, and it's a stunner. The light and free-flowing design of the BeoSound 8 makes it versatile. Use it as a music system in a main room, as well as the patio, the summerhouse and even mounted on a wall.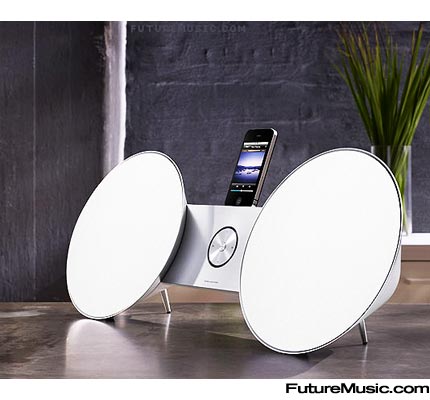 The BeoSound 8 has a manual room adaptation switch with 3 positions, which allows it to be placed anywhere and then tuned to the location. You can control BeoSound 8 using the dedicated remote that comes with the product, or you can control it with one of Bang & Olufsen's intelligent remotes. The BeoSound 8 can also be networked using the Apple Airport Express and in this way your music collection can conveniently be streamed wirelessly from your PC or Mac to BeoSound 8.
BeoSound 8 is available in black and white. Choose from a variety of optional soft colored speaker fronts to customise it to its new home. The cone shaped speakers give BeoSound 8 a hovering 2D appearance as it hides the actual depth of the speakers. In addition, the speakers of BeoSound 8 are outlined by aluminium rings adding a distinct Bang & Olufsen look and feel.
Bang & Olufsen's BeoSound 8 will be available late this month for $1499. More information on the Bang & Olufsen BeoSound 8.