Rupert Neve Designs Unleashes Portico 5024 Quad Mic Amp
Rupert Neve Designs has announced the new Portico 5024 Quad Mic Amp. Based around custom transformers and class-A topologies, the 5024 claims to combine purity with the sweet musical performance expected from a Rupert Neve Design. With four channels of Portico Series preamplification, independent Silk controls, two channels of DI inputs, and an M-S decoder, the 5024 is a workhorse designed to enhance the front-end performance of any digital or analogue recording system.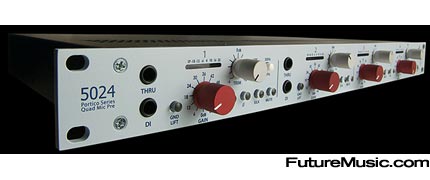 "Transformers have always been a signature component of my designs, and the implementation of custom transformers with the class-A circuit topologies developed for the Portico Series have drawn on countless years of knowledge. As the result of countless hours of experimentation, these preamplifier designs greatly enhance sonic performance, and make listening a more enjoyable experience," Rupert Neve contends.
In addition to 72 dB of gain, the 5024's mic pres include individually selectable phase, mute, phantom power, a selectable frequency high-pass filter, and the Silk circuit. Channels 1 and 2 of the 5024 feature a high-Z input designed for instrument level sources. Channels 3 and 4 feature an M-S switch, which enables Mid-Side decoding without the use of multiple console channels.
No pricing or availability has been announced. More information about Rupert Neve Designs.