KRK Announces VXT4w Computer Monitors
KRK has announced the VXT4w computer-based monitor. These iBooky looking speakers are geared for consumers who are looking to primarily perform basic music production "in the box" and/or for more discriminating listeners who want better audio reproduction on their computers. KRK has incorporated some of the technology we're used to seeing in their other higher-end monitors including their trademark yellow Kevlar cone woofers.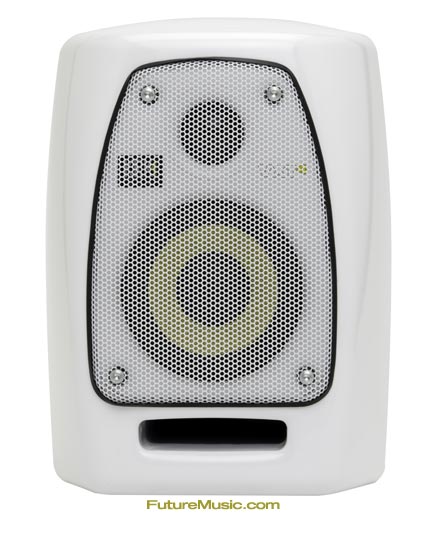 The VXT4w monitor features a white enclosure, which claims to provide low resonance, improved structural integrity and extended low-end, with slotted bass ports for reduced port turbulence. The silk domed tweeter and the Kevlar woofer design both have vented formers to remove heat and reduce the effects of power compression, enabling these monitors to maintain their sonic signature after hours of continuous use.
Features:
» 1″ Silk Dome Neodymium Tweeter
» 4″ Woven Kevlar Woofer
» 45 Watt Bi-amplified Design with Active Crossover
» Curved Front Panel for Enhanced Imaging
» Limiter with Defeat (and front panel indicator)
» Ground Lift Switch
» Auto Mute Feature Reduces Power Use When No Signal Is Detected
» Peak SPL: 114dB
» Frequency Response: 59Hz – 22kHz +/- 2dB
» Protective Switch Covers
KRK's VXT4w costs $249 and will be available now at Best Buy.