Drawmer Unveils HQ
Drawmer has unveiled the HQ, a combinedquality monitor pre-amp/volume controller. The HQ is an accurate pre-amp which offers finely balanced volume control over a variety of analog and digital input sources, with low inter-channel crosstalk. The HQ also boasts a DAC for clean conversion of digital sources to analog for reference monitoring.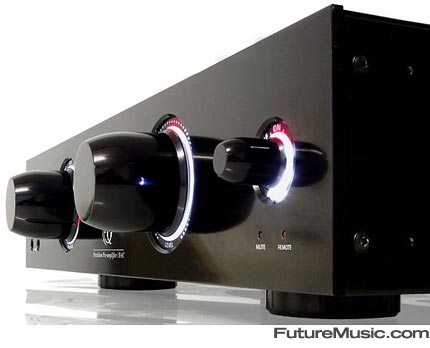 Features:
» Precision relay volume control – accurate channel balance to 0.05dB
» Innovative (SilentRelay) volume management (>100dB attenuation)
» State of the art DAC (-100dB THD & Noise and -114dB DnR)
» Ultra low crosstalk (>100dB @20Hz to 20kHz)
» Four analog and 5 digital sources, with individual gain setting
» Intelligent source select allows A-B comparisons
» Digital inputs to 192kHz 24bit with jitter reduction
» RIAA input for vinyl
» Switching for three different speaker configurations: Speakers A, Speakers B or Speakers A+B
» Linking operation for multi-channel systems
» Dual Headphone outputs
» Normal output levels up to +18dBu balanced
» Hot output levels up to +28dBu balanced
» Internal Linear power supply with multi-stage regulation
No pricing or availability has been announced. More information on the Drawmer HQ.