JamHub Releases TourBus, GreenRoom & BedRoom Band Practice Systems
Steve Skillings faced a dilemma, his band was too loud to rehearse without provoking visits from the local authorities, not to mention drive the members of his household out of their minds. He wondered if there was a solution on the market that would solve his problem, but when he began investigating the market, he only heard of musicians in his own situation. A problem, that needed a solution…
Having been an engineer and former product developer at Bose, Skillings decided to take matters into his own hands and created the JamHub product line.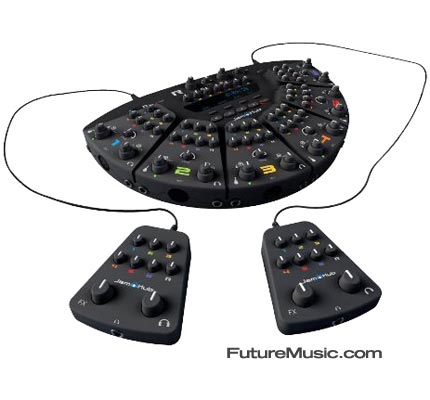 There are three models currently in the JamHub lineup, the BedRoom, the GreenRoom and the TourBus. The 7-section, 21-channel JamHub TourBus system mixes ampified instruments and vocals and puts out the sound through headphones for quiet practice sessions. With inputs for 7 players, one SoleMix remote, and a USB audio out for digital recording, the JamHub TourBus makes silent rehearsal possible anytime and anywhere. The JamHub TourBus also has two SoleMix remotes plus a built-in recorder. Each section offers a stereo TRS and XLR mic input, FX return level, and headphone volume control. The TourBus records WAV files, ensuring quality recordings.
Features:
» 21 audio channels for up to 7 musicians
» 7 XLR and 7 TRS input jacks
» SoleMix controls for each section so everyone creates their own mix
» 4 SoleMix remote jacks (2 remotes included)
» 1-R switch for quickly listening to recording mix
» R section for connecting to MP3 or recording
» Built-in 24-bit stereo effects including reverb, delay and modulation
» Stage control gives each player virtual stage location in rehearsal studio
» Phantom power (+48V)
» USB out for direct recording to computer
» Built-in recording to SD RAM card
» Metronome built into recording system
» Two remotes
When you're jamming, JamHub TourBus keeps it virtually silent to the outside world—neighbors can't hear it; parents can't hear it; cops can't hear it. But for everyone in the band, the experience rocks. Each musician controls an individual mix. Just pick a color section and plug in your instruments, mics, and headphones. Nice work Steve!
The JamHub TourBus costs $850, the GreenRoom is $600 and the BedRoom will set you back $400 bucks. More information on JamHub.