Ultrasone Debuts New Edition 10 Headphones
Ultrasone Inc. has released the Edition 10, its first open back special edition headphone that you can't afford – no we're serious, these pups are $3000. The long awaited (who is actually waiting to spend $3000 bucks for headphones? Who?? —Ed.) open back Edition 10 headphone boasts Zebrano wood ear cup inlays, Ethiopian sheepskin leather ear cup pads, Titanium plated drivers, Kevlar coated cables and a ray gun (sorry, no ray gun, that was us…). Only 2010 Edition 10 headphones will be produced, each one will be embossed with its own serial number.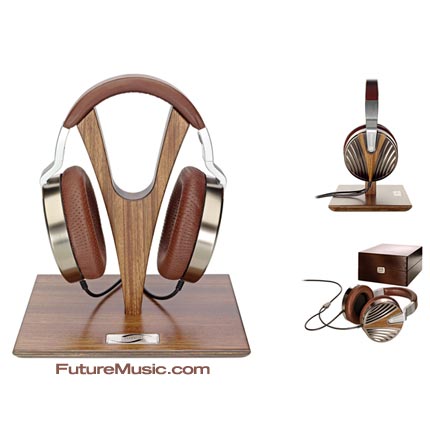 The Edition 10's ear cups feature high levels of air permeability through the grills, high specific torsion strength and extremely low resonance, all in a lightweight design. The outer ear cup is finished with galvanic Ruthenium plating and with a Zebrano wood inlay, which is coated with eight layers of clear lacquer for protection. The Edition 10's inner ear cup, as well as the head-pad, is adorned with reddish brown Ethiopian sheepskin. This type of leather is known for being the most supple leather available, achieving the maximum level of comfort and sound isolation.
The drivers selected for the Edition 10 have been specially tuned for open back headphones. The Titanium-plated 40mm drivers have been designed with a 10% more powerful magnet for enhanced sound pressure levels. Each set of drivers have been individually paired with a tolerance of +/- 0.4. Attention to detail can be seen at every level with the Edition 10s and the cable is no exception. Ultrasone has incorporated silver-plated OFC 99.99% pure copper wires and utilized Kevlar as the casing, achieving increased current flow, improved flexibility and lower overall weight. In addition, the Edition 10 is designed to be balanced input ready, so rich guys who want to impress their other rich friends audiophiles who wish to implement a balanced cable configuration do not have to change the entire wire, rather connect XLR connectors instead of the 6.3mm connector.
Ultrasone's latest headphones employ S-Logic Plus technology, resulting in an impartial acoustic feeling that affords the listener the utmost spacious tonal perception. This gives users the advantage of wearing Ultrasone headphones for many hours without their ears hurting. Ultrasone's newest headphones also contain MU-Metal shielding (ULE technology) that reduce the amount of radiation directed to the listener by up to 98%, as compared to conventional headphones. Each Edition 10 headphone comes with a hand crafted Zebrano wood headphone stand and is housed in its own wooden box for safe storage and transportation.
Specifications:
» Open-back deluxe headphones with reduced emissions using the ULE standard (Ultra Low Emission) and S-Logic Plus technology
» S-Logic Plus technology
» Dynamic principle, open
» Frequency range: 5 – 45000 Hz
» Impedance 32 Ohm
» Sound pressure level 99 dB
» MU Metal bufferboard,
» Reduced field emissions in accordance with ULE standard
» 40 mm titanium-plated driver
» Magnet NdFeB
» Weight 282g (excl. cord)
» Cord length: 3m
» Aramid fiber enhanced
» Silver plated high-flex cable
» (OFC 99.99 % pure copper)
» 6.3 mm gold plated plug
These headphones are quite gorgeous, but three-thounsand bucks for headphones? In this economy? Really??
Ultrasone's Edition 10 headphones cost a whopping $2,749 and will be available a shortly. More information on the Ultrasone Edition 10.