Numark Announces iDJ3 & Mixtrack Pro
Numark has launched the third incarnation of the iDJ, aptly dubbed the iDJ3 and is readying a new DJ MIDI controller, the Mixtrack Pro.
The iDJ3 is a new version of the iPod focused DJ controller with an USB computer audio interface, which is also capable of mixing music from a Mac or PC. The system can also playback music from an iPod or iPhone, as well as record music mixes directly to iPod or iPhone. iDJ3's two-turntables-and-a-mixer setup, plus built-in soundcard allows entry-level DJs to scratch, mix, loop and add effects to music stored on their computer. iDJ3 comes with the Virtual DJ software which integrates with the iTunes library on a Mac or PC.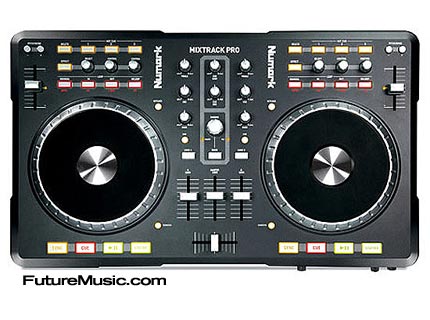 Mixtrack Pro, is an advanced version of the Mixtrack DJ controller and computer audio interface that was released earlier this year. Included with Mixtrack Pro is the Virtual DJ LE software for mixing and performing all types of digital audio and video formats, including direct access to iTunes playlists.
Numark's iDJ3 will be available shortly for $399.00 and Mixtrack Pro will be available just before the holidays for $349. More information on Numark's Mixtrack Pro.