Pioneer Introduces HDJ-500 DJ Headphones
Pioneer has introduced the HDJ-500 series DJ headphones. Available in red, black and white, the new headphones claim to provide maximum performance and versatility in a lightweight package.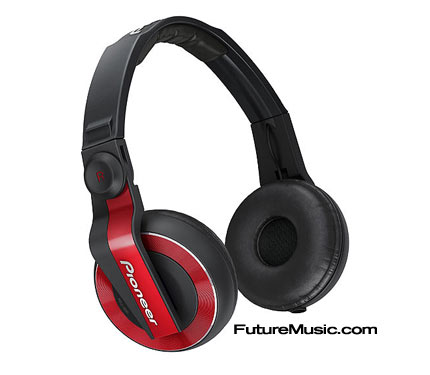 The HDJ-500 DJ headphones adapt the styling and performance cues of Pioneer's top-of-the-line HDJ-2000 headphones (with a nod to Dr. Dre's Beats —Ed). The HDJ-500 uses comfortable urethane pads for the ears that allow the headphones to mold around the user's head and ears for a snug and slip-resistant fit.
Furthermore, the urethane pads are wrapped in great quality leather, providing greater feel and extended comfort. The main structure of the headphones is crafted of magnesium alloy for light weight and durability, making them great for travel and long periods of use.
The HDJ-500's stylish design is matched with quality sound providing clear audio reproduction, especially in the critical low and mid frequency ranges that are key for remixing. By combining 40 mm diameter drivers, a 19 ?m (micrometers) diaphragm and a copper clad aluminum wire (CCAW) voice coil, the headphones can efficiently reproduce the lower frequency audio range.
For maximum flexibility during performances, the HDJ-500 features a rotating arm structure that allows the user to rotate the right earpiece forward and back by as much as 60 degrees. At that position, the flexible headband maintains enough side pressure to allow the DJ to listen to audio on just one side of the headphones.
The headphones include two (!) interchangeable cords providing freedom of movement during performances. The traditional 1.2 meter coiled cord (extends to 3m) is perfect for regular DJ performances, while the 1 meter straight cord is better suited for casual listening.
Features:
» Fully enclosed dynamic stereo headphones
» Frequency Range: 5Hz–28,000Hz
» Impedance: 45
» Max Input: 2000 mW
» Output Sound Level: 105 dB
» Driver Unit: 40 mm dia. dome type
» Plug: 3.5 mm dia. 3P mini-plug (gold-plated, screw-in)
» Weight: 6.8 ounces (without cord)
» Included: 6.3 mm dia. 3P plug adapter (gold-plated, screw-in)
» Cords: 1.2 m side mount coil cord (extended 3 m), 1 m straight cord
Pioneer's cost $125 when they bow before the holidays. The black HDJ-500-K and the red HDJ-500-R will be available in November 2010, while the white HDJ-500-W will be available in January 2011. More information on the Pioneer HDJ-500.