Glanzmann & Faderfox Announce 4midiloop DJ Controller For Traktor Pro
Glanzmann Digital DJ Solutions has teamed with German manufacturer, Faderfox, to develop the new 4midiloop controller (Really?? 4midiloop?! That's the best name you could come up with? —Ed.). The companies claim that the 4midiloop is the first controller which allows simultaneous control over four decks and the four Effect-Slots in Native Instruments' fine Traktor Pro.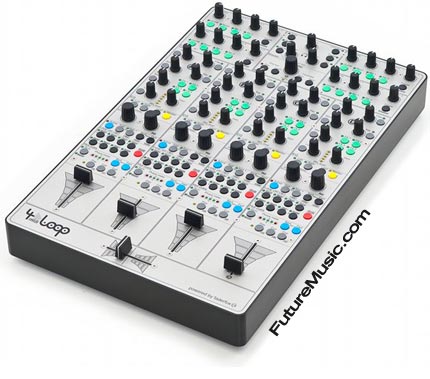 The 4midiloop contains over 600 electronic components, and is equipped with a cross and line fader from Eclectic Breaks (Pro X Fade). All the controls allow simultaneous administration over nearly all of the operations in Traktor Pro, as well as indicating all the important visual feedback signals of the controller's software.
Features:
» 47 Potentiometer FX, Master, EQ
» 9 Encoder Browser, Seek / Scratch, Pitch
» Rubber knobs for best tactile feeling
» 152 LEDs different colors to display various data
» 166 Push buttons in different colors, double functions with shift button
» 5 Fader Eclectic Breaks – Pro X Fade Linefader, Crossfader
» USB bus powering Power supply via USB- Bus / consumption less than 300mA
» USB interface class compliant / no driver necessary
» Optimised for Native Instruments Traktor Pro
» Indication of each relevant state by feedback data from software
» System mode for different basic settings (fader curves, etc.)
» Aluminium chassis
Bottom Line: Wonderful array of knobs, faders and buttons for tweaking, bad price point with the S4 comin' round the corner…
The 4midiloop will cost €1300 when it bows in November. More information on 4midiloop.