Ultrasone Debuts PRO 2900 Headphones
Ultrasone has debuted the open-backed PRO 2900 headphones with an option to upgrade to a balanced, double cable version.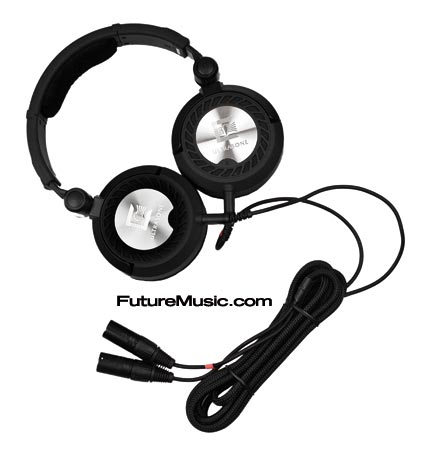 While standard, single cable headphones are commonplace in most pro audio and audiophile applications, a balanced headphone coupled with a balanced amplifier offers unique advantages over the former such as increased audio performance due to a doubling the slew rate and voltage swing power, while reducing distortion components and eliminating crosstalk. Ultrasone claims the end result is decreased distortion and ultimately superior audio performance. To achieve this paragon of headphone fidelity, balanced headphones must be paired with a balanced amplifier (4-channel amp with 2 inverted positive channels) that instead of using a common ground, uses two wires per side to deliver positive and negative audio signals to each side of the headphone.
Ultrasone's PRO 2900s boast a classic black design, velvet covered black ear pads and a diamond-cut logo insignia on the ear cup. The PRO 2900 features a 40mm titanium-plated driver and a soft USC-Cable that is paired with Neutrik connectors. Ultrasone's newest headphones contain MU-Metal shielding (ULE technology) that reduce the amount of radiation directed to the listener by up to 98%, as compared to conventional headphones. The PRO 2900s also contain Ultrasone's patented S-Logic Plus technology for reduced sound pressure on the ear drum and improved tonal perception. This gives users the advantage of wearing Ultrasone headphones for many hours without their ears hurting. Ultrasone's PRO 2900 comes in a hard-sided carrying case along with two removable cables (one spiral and one straight) and spare speed-switch ear pads.
Features:
» S-Logic Natural Surround Sound Plus
» Dynamic principle, open
» Frequency range 6-42.000 Hz
» Impedance 40 Ohm
» Sound pressure level 96 dB
» MU Metal buffer board, reduced field emissions in accordance with ULE (=Ultra Low Emission) standard
» Driver 40 mm titanium-plated
» Weight 295 g (without cord)
Ultrasone's PRO 2900 headphones are available now and cost $549; the Balanced PRO 2900 version will set you back $799. More information on the Ultrasone PRO 2900 headphones.