Korg Announces Limited Edition WaveDrum Black
Korg has announced a limited edition of the WaveDrum with a solid black metallic rim and an exclusive black suede Remo drum head.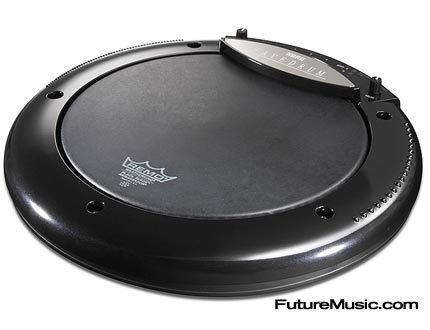 The original Korg WaveDrum was introduced to the music world back in 1994. This innovative musical instrument was known for its innovative design, performance possibilities, unique sounds and whopping price. Out of nowhere, Korg released a next-generation Wavedrum Digital Percussion Synthesizer in 2009 with a much more reasonable price point, which has created a new fan base.
The WaveDrum Black can be used as a stand-alone percussion instrument, or integrated into an existing drum kit or percussion rig. Unlike digital trigger-based systems, Wavedrum uses a real drum head as the playing surface, providing an authentic and familiar feel. (It is the only electronic percussion instrument available that "understands" hand-drumming technique. —Ed.) This allows the performer to employ sticks, brushes, mallets and/or traditional hand-drum techniques (mute, slap, bend, etc.) to play with comfort and confidence.
The Korg WaveDrum Black will be available sometime before the holidaze. No price has been announced.