Christian Blomert Releases TouchABLE – Ableton Live Controller App
Christian Blomert has released TouchABLE, a new Ableton Live controller app.
Features:
— Clip grid
» Navigate around the set using touches.
» Need to go faster? Use more fingers!
» Clips & scenes with full color and name feedback
» 8×15 clips in fullscreen, 8×7 clips in half screen
» Access to arm & solo functions
» Playing position feedback inside clips- Grid always stays in sync with the set you're controlling
» Stop Toggle provides a safe, yet easy way to stop tracks & clips.
» Famous colored box around currently shown clips within Live
—Mixer
» Unlimited tracks, navigate with the touch-sensitive cross.
» Volumes, returns A-D, panning, monitors, resets, master & return volumes
» 2 different modes in fullscreen: Mode 8 to control two different parameters for the same 8 tracks, Mode 16 to control 16 tracks at once.
» Output-meters provide feedback of each tracks/masters/returns output-levels.
» Mute-buttons for each track
—Devices
» Intuitive device selection screen using touch scrolling. Toggle mode to enable & disable devices from the overview
» Compatible with VSTs, audio-units and native live plug-ins
» Native Templates for few of Lives devices More will be added in the next updates.
» Choose between 3 device modes: Native Mode, FX8 with 8 and FX32 with 32 parameters to be controlled at once.
» Navigate and control unlimited parameters with bank switches
» Never lose a parameter in the heat of a set: parameter name & value feedback directly inside the faders.
» FX8 & FX32: Different fader-colors differentiate continuous parameters and multistate-toggles.
» Control 2 devices at the same time
—Keys
» 17 note Keyboard
» Touch & scroll Octave-selector
» 2 velocity modes: global or range
» Range velocity mode provides 5 velocity steps within the same key: Press the key on top for low velocity, press it on bottom for maximum velocity
» Keys change colour to reflect current level of velocity
» Tweak the minimal velocity during range mode with the provided slider
» Perform with 2 keyboards in full screen mode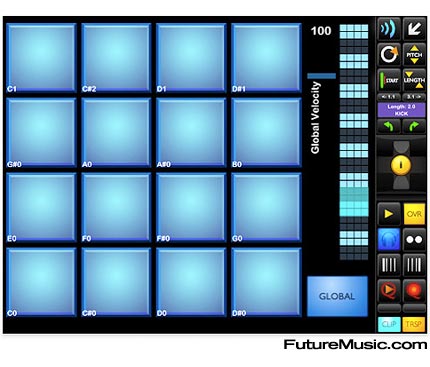 —Pads
» 8 or 16 pads mode
» Touch & scroll Pad-selector
» 2 velocity modes: global or range
» Range velocity mode with 5 different steps
» Pads change colour to reflect current level of velocity
—Clip & Transport Control
» Change parameters of clips : pitch, detune, loop, length, position
» Easy access to transport functions: play/stop, midi overdub, cue level, metronome, nudge up/down, midi record and launch quantization
Christian Blomert's TouchABLE costs $16.99 and is available now. More information on TouchABLE.