Wacom Announces Nextbeat MKII
Wacom has announced the second generation of nextbeat, their DJ MIDI controller. Now we can't say that we've seen many of these puppies in the wild, but Wacom is giving the platform at least one more refresh to see if it can garner some additional market share.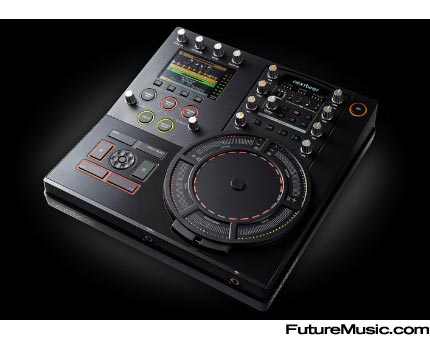 nextbeat MK2 is a fully integrated DJ system, incorporating touch sensor controls and live performance functions. Its wireless portable control unit enables performers to move free from the main device, resulting in more engaging live performances, contrasting to the traditional style of DJs performing inside booths.
Nextbeat MK2 Enhancements:
» BPM Sync
» 16GB Storage capacity
» Multi-format: WAV, AIFF, MP3 and AAC-LC
Nextbeat MK2 combines two digital players, a two channel mixer, an effects processor and sampler in a single, lightweight and record-sized unit. Its 3.5-inch LCD panel displays information such as the track information, waveform, cue points and loop points providing all the functionality a DJ needs for playing music. In addition, nextbeat MK2 does not require a PC like many other DJ systems allowing DJs to quickly setup their gear and to reduce the necessary equipment.
Nextbeat MK2's touch controls provide an intuitive and direct way to interact with the system, modify and control sounds and samples or add effects. Its circular touch sensor allows users to quickly switch between an analog style turntable, an effects processor and a sampler. Nextbeat also provides separate, independent touch sensors for controlling pitch fader, volume fader and crossfader.
All digital Audio files are downloaded to the system either directly from a computer using a USB connection or stored on CF cards. MK2's sampler function can be used to directly record digital sound sources, allowing sampled sounds to be incorporated into performances and modified. The effects processor features six types of effects, which can be assigned to channel A, B or Master.
Nextbeat MK2 will be initially launched in Europe for €999 in the near future. More information on Wacom Nextbeat MK2.